Artist of the Month: Ty Banas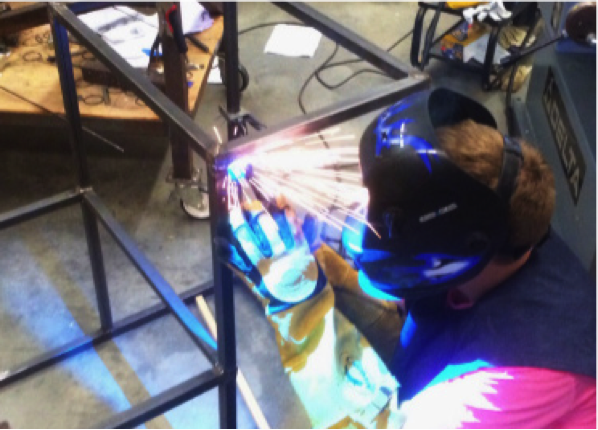 Senior Tyler "Ty" Banas has always seen himself as more of an engineer than an artist. "Aesthetics are nice," he said, "but physical function comes first." Last year, in his year-long engineering-focused independent study with Upper School furniture design teacher Chris Maher, Banas built a boat that was so big it required the help of Buildings and Grounds to be removed from the school. "I started working on engines and stuff when I was 7," he mentioned. "I didn't really know what I wanted to do, but I knew that I wanted to be physical. I hate sitting behind a desk and not doing anything."
Banas fills his need for physical work during the summer when he works at the flight school and mechanic shop in the Infinity Flight Group, and although Banas had mechanical experience as a result of working there, this project was still a huge learning experience.
"You can't teach what I've learned," Banas said. "I learned the hard way; I made my own mistakes, and I had to figure out how to get out of them. When I had a real problem I would go to [Mr. Maher]. We would sit down together and figure out the problem, but he was really good about not just giving me the answer. He wanted me to figure out the answer." Finding out that "fiberglassing" was not as easy as it seemed in a YouTube video led Banas to realize one of his biggest takeaways from the experience, as he puts it, "Don't underestimate anything." Banas faced other challenges, like designing the wooden hull, the motor- mount, and seat, as well as figuring out steering, all the while constantly visualizing his creation; according to Banas, his creation did not look like a boat until 3 weeks before the deadline. "Failure motivated me because I don't like not finishing things. I'm a bit of a perfectionist," he said.
Banas protests his identity as an artist, saying, "I don't consider what I did to be art," but the processes by which Banas created his boat, such as constant revision and gradual formation, are similar to those artists would use. His work resembles a fusing of art and engineering, a feat that had required him to visualize, design, and actualize many concepts, be strongly attentive to detail, constantly revise, and have a thorough understanding of current techniques and technology.
Though very independent in his work, Banas evokes his family in his work. In his introductory woodshop course, Banas chose to make a Bavarian style chair. "My parents have a very similar chair. It's a very old style chair, and I wanted [mine] to look like the next generation," he explained. Family tradition also motivated him to learn to fly. Now, Banas plans to keep his boat close to home too, saying, "This boat will never leave my family for as long as I live. I've spent so much time with it. I could never see it go to anyone else."
Get to know Ty 
Favorite Food: Sanchez from Hoagie Haven
Favorite Class: AP Physics II with Mr. Mayer
Favorite TV Show: NCIS
Favorite Quote: "Act like you've done this before," said by his former lacrosse coach