How a "Beat Lawenceville" Shirt Could Change the Game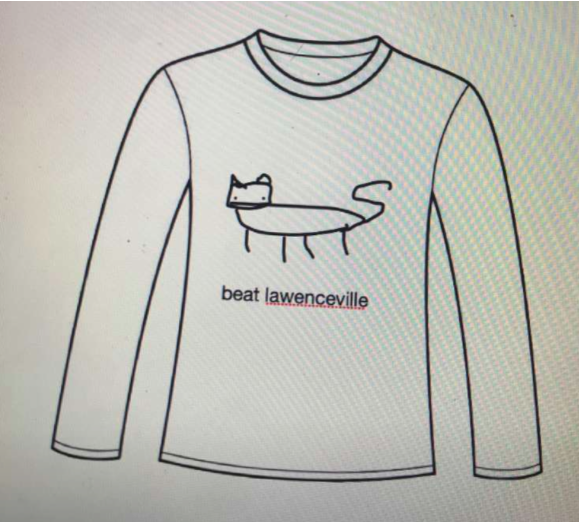 Lawrenceville, or should I say "lawenceville," will be taking on PDS's esteemed Boys Varsity Ice Hockey team, this Thursday at Princeton University. Intimidating enough as our team is by itself, we will surely strike fear into Lawrenceville's eyes by coming out to the game sporting our fresh, clean, snazzy AND dope"Beat Lawrenceville" t-shirts. 
On the topic of the t-shirts: it is quite unfortunate that freshman Michael Higgin's t-shirt design was not selected, and instead was replaced by a more traditional design. Observe the "Magnum Opus" to the top right.
The lowercase and the typo? Yeah, that's all a part of the plan. They symbolize that lawenceville's Boys "Varsity" Ice Skating club is so far beneath us that we do not even bother ourselves with using proper grammar to address them. The red underline underneath "lawenceville?" Allegories, ever heard of them? Our refusal to ignore that mistake goes to show the mistake that Lawrenceville's Toddlers Roller Blading group is making by picking a fight with our proud and powerful Panthers. 
The masterfully drawn, emblematic panther? It may seem the Mona Lisa, but you will be shocked to find out that it is not. We all know panthers for their ferocity, resilience, courageousness, and signature "pounce." With a panther that looks like a newborn drawn on the t-shirt, Lawrenceville's Infants Curling Association will heavily underestimate our fierce Panther's power and will be stunned out of their minds when we score on them faster than they can say "panthers." 
Although this t-shirt design was wrongfully not chosen this year, we must band together to make it OFFICIAL for upcoming years. According to Freshman Dean Stephanie Santangelo, "The physical and psychological impacts of such a shirt would have just been too much for Lawrenceville." 
When asked about why his shirt design didn't win, Higgins emphasized, "It was the Russians."
Do you want to see symbolism as an annihilating factor against Lawrenceville? Do you want your fellow students' hard work to pay off? DO YOU WANT TO SEE PDS BEAT "lawenceville?" Then follow up on this year's 174 "yes" to 36 "no" vote by voting for this t-shirt design next year!