WHIP: Chuck's Spring Street Cafe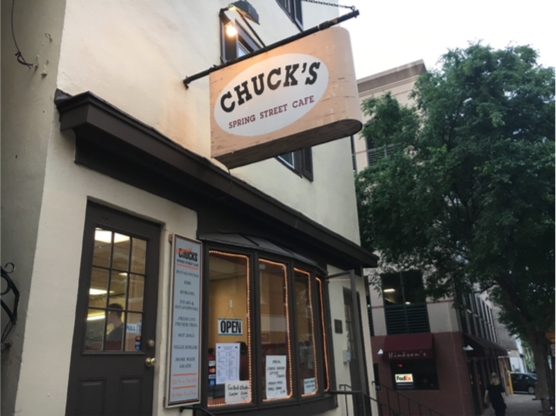 Walking through the halls of Princeton Day, you will find a very diverse group of individuals, each with different interests, hobbies, and most importantly, food tastes. However, despite the multiplicity of apetites, it seems most everyone has a special place in their hearts, and stomachs, for Chuck's. This quaint eatery on Spring Street is a favorite of the PDS community. As junior Elaynah Jamal commented, "Who doesn't know Chuck's?"
Firstly, if you are one of the members of the PDS community who is not familiar with Chuck's, an overview follows. Chuck's is a cafe in walking distance of Nassau Street, which sells American cuisine, ranging from burgers and hot dogs to steak and seafood. However, ask anyone who has been there, or even heard of the eatery, and he or she will most likely bring up Chuck's specialty: wings. Yes, it seems the true delicacy of Chuck's is their delicious wings. You need not rely on hearsay alone, however; since "Chuck's is not a new thing," said junior Danielle Hirsch, its reviews can come straight from the PDS students themselves. "Chuck's has the best wings ever," declared Jamal, who then eagerly added, "Every Super Bowl, I go to Chuck's to get my wings." Hirsch chimed in, "I really like their curly fries," mentioning another crowd favorite. When asked about a favorite menu, nearly everyone interviewed replied, without hesitation, "the wings," making Chuck's wings the clear winner.
In addition to being known for its incredible wings, Chuck's is also known for, its location and ambience.  Though Chuck's is a chain restaurant, many consider this Chuck's to be "uniquely Princeton" as it is close to Princeton University and the town hub, Nassau Street. Apart from its location, Chuck's has also been known to be an inviting space. "It has a friendly atmosphere," attested junior Grace Nicholas. Added junior Caroline Bernstein, "I've never actually consumed food there, but it's a nice place to sit."
Chuck's is a clear favorite among students. No, it is "not a new thing" as Hirsch mentioned, but it is one of the staples of the PDS community. Different types of personalities and food tastes at PDS have Chuck's as their common thread. Whether you go for the famous wings, the friendly atmosphere, location, or just the curly fries, Chuck's is a great eating option. It seems that the PDS students have claimed this little cafe on Spring Street, making it an integral part of the PDS experience. Whether you are a Chuck's regular or a newbie, you will feel comfortable going to this local eatery that truly is one of PDS's own.