"Our Town" returns to the McAneny stage after 50 years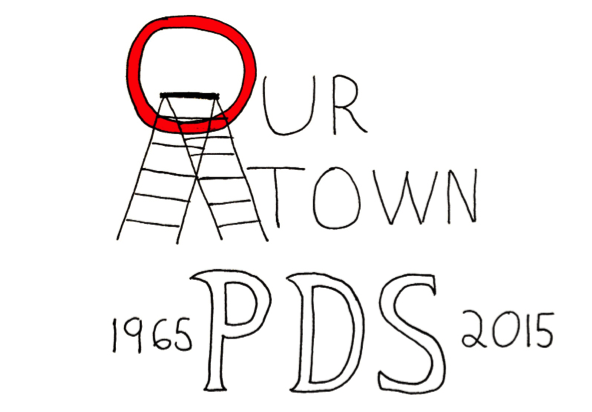 Approximately 50 years ago, McAneny Theater housed its first play. Starring Christopher Reeve and Herbert McAneny, Our Town graced the stage of PDS for the first time. Now, on the 50th anniversary of our beloved Princeton Day School, Our Town will be produced once again for the first time since its PDS debut.
Our Town was written in 1938 by Thornton Wilder and remains a classic, timeless story that transcends all generations with its simplicity and honesty. Our Town takes place in the fictional small town of Grover's Corners, New Hampshire. The play spans a time of twelve years from 1901 to 1913 and tells the story of everyday life for the citizens of the town, as well as the story of its main characters, George Gibbs and Emily Webb. The play's student co-director senior Rajiv Potluri believes Our Town has the distinct ability to affect its audience, as well as stand the test of time for many reasons. "Every part of Our Town is very realistic in the sense that you don't have a soap opera at one moment and then a comedy at the other. It's literally tracking the lives of George and Emily, and the people in Grover's Corners, so, in that sense, we can all just take a moment to step into their lives, just watch them, perhaps learn something from them that they realize, and reflect a bit about our own lives, and just see it not necessarily as a dramatic moment, or a funny moment, or a very painful moment but just life as it is," he said.
Director Stan Cahill plans to throw some twists into this classic story by having the three act play move locations with each act. Act One will begin in the Lower School Gymateria. The show will then move to the Campus Center for Act Two, and Act Three will conclude the show in the McAneny Theater. Mr. Cahill says this will be done in an effort to remove the experience of theater from its usual setting. "By taking away some of the habit [of traditional theater], audience members and actors will maybe look at the play in a new way, and then also maybe look at the campus in a new way," he said.
As Our Town first premiered at the McCarter theater right here in Princeton, and Thornton Wilder spent a period of his life in this region, Mr. Cahill spoke about the strong ties of this play to our area, stating, "While it takes place in New Hampshire, there are echoes of this place, this community, not just the Great Road community, but the Princeton community."
In many ways, Our Town will be a reflection of the past 50 years, and also a projection of the 50 yet to come. It is old. It is contemporary. It is futuristic. Those who see it will live it. And who wouldn't want to be a part of the history of 'Our Town…?