Artist of the Month: Jamie Maher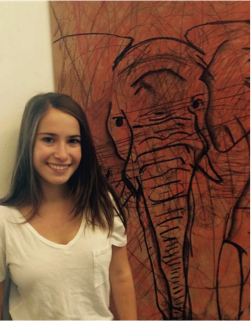 For senior Jamie Maher, art has always had a strong presence in her life. Growing up, she was surrounded by the artwork of her family members, leading to the development of her own interest in art. Now in Upper School, with years of art classes under her belt and a natural artistic ability, she is getting ready to pursue art beyond the PDS walls.
Maher has taken Fine Art for all four years of Upper School, and doubled up in art in her freshman, junior, and senior years, with Architecture, Photo I, and Photojournalism, respectively. Her favorite course is Fine Art because, as she said, "I had a lot of freedom. I could change things and pretty much do whatever I wanted.
With this freedom, Maher has had a chance to refine her craft and focus on design. "I like designing with words, like songs that I really like," she said. "I like using them in my art." These designs, however, are not confined to Maher's sketchbook; both the designs of the Senior Class' Powderpuff t-shirts and the Zoo shirts were Maher's original conceptions.
Given that her mother is an artist, her father is a contractor, and her brother is an architect, Maher has been influenced by art, particularly that of her family, virtually her entire life. "It's always been part of me," Maher added. With such an artistic family, it is no surprise that her main inspiration is related to her. When asked who her biggest inspiration in the art world was, Maher replied without hesitation, "My brother." Maher explained that her brother is an architect who has lived in Rwanda (Africa), for the past two years, designing hospitals. "He's using what he loves to help people to have a good experience," explained Maher. Her brother's artistic path has strongly influenced her artistic style as well. "I like putting meaning into my art," commented Maher.
Maher does not plan to end her artistic journey after graduating from PDS. On the contrary, she intends to put even more time and energy into developing her artistic abilities. In college, Maher hopes to double major in marketing or business management and studio art. With this combination of majors, Maher sees herself having a career in designing ads for businesses, or possibly designing merchandise, like iPhone cases. Though she plans to immerse herself in the art world in college, Maher wishes she had spent more time working on her art during high school. "Don't be afraid to put time into art," Maher said when asked what advice she would give beginners. She will most definitely be putting more time into her art, not just in college, but also throughout her entire artistic career.
Get to Know Jamie 
Favorite Artist– Banksy
Favorite Musical Artist– Rascal Flats
Favorite Food– Italian
Favorite Art Class– Fine Art