Music ensembles venture to the city of Boston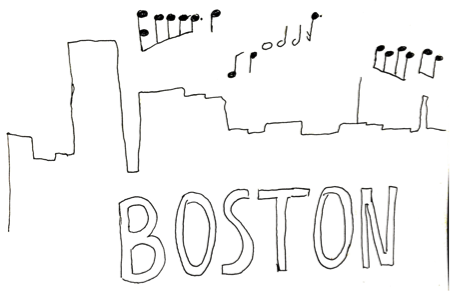 This school year, the band, orchestra, and choir students will be taking a three-day trip to Boston. This trip is an opportunity to show the judges how talented the Princeton Day School Panthers really are! "As a performing ensemble, you want to perform as often as possible. And you want them to get something out of their performances," said choral director Marc Beja. This is a chance for us to be honored as the PDS community. The trip will be from April 8-10, 2016. "It's a good experience for kids because we want to build the tradition of going somewhere with the ensembles," added orchestral director Thomas Rzeczycki.
In the morning, buses will leave for Boston. After a five-hour journey, students will see a matinee performance by the Boston Pops at the Boston Symphony Orchestra, one of the premiere symphony groups in the country. Students will then get a tour of Copley Square, the Christian Science Center, Fenway, Symphony Hall, Beacon Hill, and historical sites throughout Boston, such as the sites of the Boston Massacre and the Boston Tea Party. The day will end with dinner at the Hard Rock Café.
On Saturday, students will perform their pieces at the Festival Performances. After the performances, "one of the judges from the panel will come down and do a workshop with the group," said Middle and Upper School music teacher and director Channing McCullough. "For an ensemble director, you sometimes get used to the way things sound … and it's great when you can have another set of smart ears listening to and working with your ensemble," added Mr. Beja. His words remind us that the judges will only help improve our performance and ensembles as a whole.
After lunch at Pizzeria Uno, students will enjoy a show by the amazing Blue Man Group. "They basically take these instruments, and they make them out of PVC pipes, kind of like the physics students here do. They play different melodies and different drum beats. That's really cool, but they also have a live band that backs them up," explained Ms. McCullough. After returning to the hotel, there will be an awards dinner and banquet, where we will get the judges' results. "If we get first place, great. If we get last place, great. As long as we walk in and out, feeling good about how we do, whatever," said Mr. Beja.
"I think it is a really good bonding experience for kids who are in the music ensembles … until today, the most vivid things in my memory are trips which I took with my orchestra. I used to play in a high school orchestra, which [was] competing internationally," stated Dr. Rzeczycki. He added, "Not only is it a bonding experience, but it's also an experience of playing for different communities." This is truly a once-in-a- lifetime experience for PDS students.