Athlete of the Month: Kevin Hagan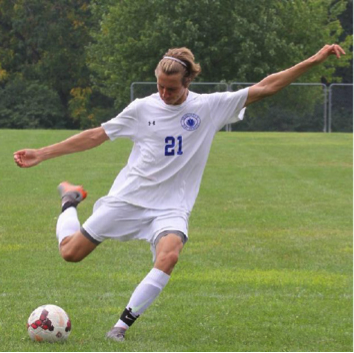 Senior soccer standout Kevin Hagan's dynamic and explosive style of play and leadership, as well as his love for the game have been evident throughout this season and years past. This has made him the Spokesman's Athlete of the Month for December.
Hagan began his soccer career in pre-school, and has been playing at the varsity level for the past three years under head coach Malcolm Murphy. Murphy was really expecting Hagan to have a breakout season this year in his final campaign: "He was going to camps and clinics. He's improved year after year. He has been a tremendous asset to Princeton Day School, and he has a good dynamic to bring a psychological game and physical game, as well as a technical game," he said. Younger players say that Hagan's leadership and experience have really helped them mature into better players and individuals on the field. The number one goal for Hagan and the team was beating The Lawrenceville School, who – until a cold and rainy Saturday afternoon this fall – had not lost to PDS since the 1980s.
Another goal Hagan had set for himself this year was to break PDS class of 2015 Marco Pinheiro's scoring record from last season. Hagan achieved this by scoring 14 goals and 6 assists, which he seemed pretty happy about. As Hagan himself admits, though, it wasn't really fair since Pinheiro played center midfield, a less scoring position than forward.
While Hagan really would have liked to see PDS win the Prep B Championship game, he was proud of his team who lost a heartbreaking 2-1 contest against Gill St. Bernard.
Hagan obviously has a knack for getting his name in the stats book, but when asked about his favorite aspect of the game, he unselfishly answered, "I just like seeing the ball go into the net."
Hagan does not just want to "Play for the wins, but playing good soccer, and keeping good possession, things Malcolm talks about." Hagan emphasized that his coach has had a huge impact on his soccer career and lifestyle off the field. When asked what he would miss most about PDS soccer, he quickly responded, "Malcolm. He always gets me on track. He's not always the nicest guy, but he always gets me where I need to be."
Coach Murphy, in turn, stressed Hagan's positive attitude. "Kevin leads by example on the field and off the field. I've been tremendously happy with him over the last three years. He wears the badge with pride and honor," commented Murphy.
We congratulate Hagan on being selected as the December Athlete of the Month, and wish him the best in all of his future soccer endeavors at the college level and beyond.
Get to Know Kevin
Favorite Song– Illi by Troyboi
Favorite Food– Bacon
Favorite Soccer Player- Marco Reus
Favorite PDS Teacher– Mr. Maher