Healey Reflects on and Describes Her Wonderful Spring Break Trip to India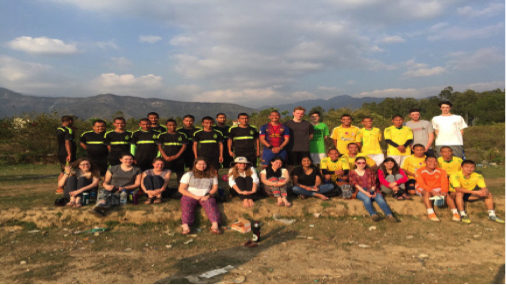 Helen Healey, Contributing Writer for Spokesman
August 15, 2015
Over Spring Break, fifteen PDS students and four chaperones embarked on a trip to India, which along with exploration and adventure, had two main focuses—spirituality and photography. The extraordinary journey began in the city of Delhi with plenty of opportunity for students and chaperones alike to get used to the time change and the culture. During our time in Delhi, we visited local landmarks like the India Gate, Jantar Mantar, and Humayan's Tomb, which gave insight into India's long and extensive history. Along with visits to these tourist sites, we indulged in Indian cuisine and shopping. We also learned the many different customs in India. For example, in India, one only eats food with their right hand because the left hand is considered to be "juta" or polluted. After our initial Indian lessons, we set out on our first of three major stops during this trip: Rishikesh.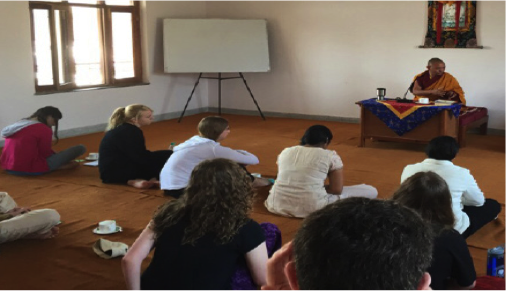 In Rishikesh, which is a small city located in the foothills of the Himalayan Mountains along the Ganges River, we spent time learning about Hinduism. Some of the main attractions of Rishikesh are its many ashrams, which are essentially Hindu monasteries and are popular among visitors. While staying at an ashram in Rishikesh we spent time meditating, exploring, and visiting the Ganges River, or as they call it there, Mother Ganga. The most exciting part of our stay in the ashram was going down to the river for aarti every evening at sunset. Aarti is a religious gathering that includes worship, chanting, clapping, and a small fire ceremony. Swamiji, who was our spiritual teacher during the stay, led the prayers with his main disciple, Bhagawati, also helping. Right after aarti, Swamiji invited us to his garden for darshan, a gathering where he and Bhagawati answered our questions. Sophomore Becca Biros recalled, "I asked Bhagawati about fear and I asked whether or not you should embrace or conquer these fears you have in your life. Her response was in two parts: perspective and faith. Whenever you have fears in your life, you have to embrace them and realize that they exist, but know that there is perspective in your life and the fears won't last forever because your life can change at any moment in time." Our time in Rishikesh opened us up to a completely different way of life than what we were used to and led many of us to change our views on many aspects of life. Unfortunately, our time in Rishikesh ended quickly, but we were onto our next aadventure: visiting a Buddhist monastery.
The Buddhist monastery was located in a secluded area in the mountains. We stayed in a center for Tibetan and Himalayan Studies and spent most of our time taking Buddhist classes, which I found to be fascinating. Our teacher at the center taught us many different principles of Buddhism like compassion, loving-kindness, wisdom, and emptiness. Compassion and loving- kindness were not incredibly difficult to understand, as many of us strive to live compassionate lives. However, the idea of emptiness was much harder to grasp because it references parts of life that are much less tangible and difficult to explain. The time at the monastery was in sharp contrast to our time at the ashram, as life at the monastery was much more isolated. After we left the monastery, we headed higher into the mountains to a town called Landour.
Landour is a small cantonment mountain town. There, we went on small hikes and excursions, during which we tried to see the tops of the snow-capped Himalayan Mountains. Unfortunately, this was the last part of our trip, so we were forced to head back down the mountain and onto the train to Delhi for our final night in India before our flight home the next day.
Of course, it was hard to say goodbye. The trip allowed us to experience different cultures, religions, and people, teaching us about the expansive country in an adventurous and up-close way. I can say with great certainty that every one of us created memories in India that will never be forgotten.