What's Happened Since Elon Musk's Takeover of Twitter?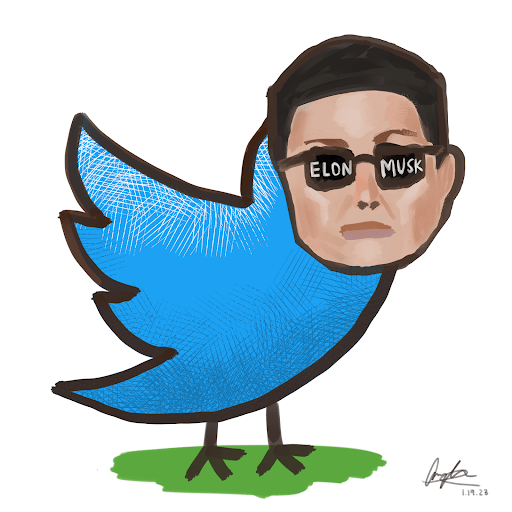 This past April, Elon Musk purchased Twitter for 44 billion dollars. The process was drawn out for months and filled with near-comical negotiations. Because of the bizarre nature of the deal, many do not know what to think of the purchase; Musk himself has not made it clear why he purchased the company, leading to widespread speculation about his motives. Some commentators believe it's just an extravagant side hobby for the affluent Musk, currently one of the wealthiest people in the world. In contrast, others theorize that the purchase is just another way for him to earn more money or accumulate power. Whatever his rationale is for acquiring Twitter, in the short time Musk has had control over the company, there has been no shortage of drama and controversy. 
Even before Musk officially took charge of the company in October, Twitter was notorious for being a platform often inundated with misinformation and dangerous media. For example, former President Donald Trump used Twitter to spread controversial information and amass a large audience to incite violence, culminating in the insurrection in the U.S. Capitol on January 6, 2021. Although Twitter eventually permanently suspended Trump (though Musk reinstated his account in November of 2022), many were outraged that the company hadn't banned him sooner, along with many others who have spread dangerous misinformation. Sophomore Olivia Richter touched on this idea, stating how easy it is to "see pretty much anything [on the platform]." When Musk took control of the company, this issue worsened as he loosened restrictions on content moderation, leading to people like Trump gaining their platforms again.
On a larger scale, the controversies swirling around Elon Musk are also relevant to the PDS community. In addition to dialing back restrictions, Musk fired more than half of Twitter's staff, blindsiding many of his employees. Since the mass layoffs, Twitter has struggled with technical issues, resulting in an uptick of bots and spam tweets. Multiple lawsuits have been filed against Musk regarding operational issues and abrupt layoffs. However, it is apparent that many still idolize Musk: sophomore Jahnavi Bhalla comments, "[Musk] profits off of the exploitation of underpaid workers…him buying Twitter perfectly shows how [we] as a society have [given] so much power and importance to the wealthy." As the wealth gap grows and many continue to struggle to pay for food and housing, we need to consider the consequences of Musk's actions. Do we want people with more money than we could ever comprehend and too much time to spend to be responsible for the social media platforms that hold such significant sway over our lives?