Shoes Straight From Hell: The Satan Shoes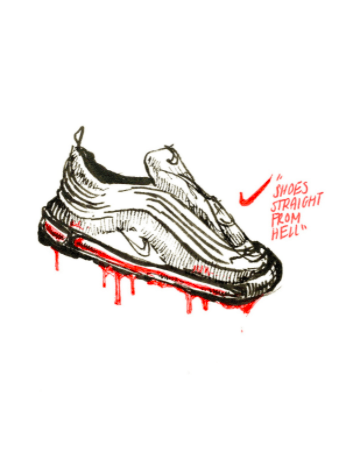 Well-known American singer and rapper, Lil Nas X, recently wreaked  havoc with the release of his "Satan Shoes." The Brooklyn-based company MSCHF (pronounced 'mischief') collaborated with Lil Nas X to produce the shoes. Released in association with the artist's newest song, "MONTERO (Call Me By Your Name)" both the shoes and Lil Nas X have faced harsh criticism.  In fact, both MSCHF and Lil Nas X have been sued by Nike.
"Satan Shoes" are a customized version of the well-known Nike Air Max 97's, explaining why Nike cited trademark infringement in its lawsuit against MSCHF (which MSCHF has agreed to settle). The suit resulted in a temporary halt of all sales of the "Satan Shoes." Though only 666 pairs were made, each pair was sold at a retail price of $1,018.
Moving away from the logistics of the situation, the shoes undoubtedly have an interesting and complex physicality (pictured below). The shoes are entirely black with bright red soles, and a white Nike swoosh on the sides and tongues. The midsoles have been rumored to contain a mixture of one drop of human blood and  66 cubic centimeters of ink, with the blood reported to be of MSCHF employees. Additionally, there are two red prints on the outermost side of the shoe. The print closest to the toe is labeled "Luke 10:18" in reference to the biblical passage describing the fall of Satan from heaven. One shoe in each pair is numbered with its respective production number, from 1 to 666 such as, "1/666 or 13/666". On the back of the shoes, "MSCHF" and "Lil Nas X" are printed vertically on the heel tabs on the left and right shoe respectively. There is also a red, upside-down cross on the tongue tabs of each shoe. Lastly, there is a pentagram pendant on the laces of both shoes, engraved with the phrases "I saw Satan," "MSCHF," and "Lil Nas X" around the edge. Though this may seem like a lot, this only covers the outside of the shoes. 
The insides of the shoes are bright red, with a black pentagram printed in the center of the heel. On the left shoe, the word "MSCHF" is printed in black around the pentagram, and on the right, the word "SATAN" is printed in bold letters. 
After describing their appearance, it may be easier to understand why these shoes and their creator have faced such harsh backlash. Princeton Day School junior, Stella Ringblom, is an example of a sneaker enthusiast  who does not like the shoes: "I don't like that style of shoe or black shoes, but most importantly, there is human blood floating around in the shoe, which truly disgusts me," In agreement, sophomore Madeline Weinstein added: "They are not my style."
Overall, the "Satan Shoes" are quite startling, to say the least. However, Lil Nas X stands by his shoes and the decisions he has made while designing them. To anyone who owns a pair of "Satan Shoes", good luck, you are going to need it!
Works Cited
Dafoe, Taylor. "Nike Is Suing an Art Collective for Turning Its Air Max Sneakers Into 'Satan 

Shoes' Filled With Human Blood."

Artnet News

, 31 Mar. 2021, 

news.artnet.com/art-world/nike-suing-mschf-for-satan-shoes-1956098.

Falcon, Russell. "Rapper Lil Nas X's Nike 'Satan Shoes' Spark Outrage – Yes, They Contain 1 

Drop of Human Blood."

News 4 Buffalo

, News 4 Buffalo, 30 Mar. 2021, 

www.wivb.com/entertainment-news/rapper-lil-nas-xs-nike-satan-shoes-spark-outrage-yes-they-contain-1-drop-of-human-blood/.

Gioino, Catherina. "Lil Nas X's 'Satan Shoes' Partner Smacked with Nike Restraining Order." 

The Sun

, The Sun, 31 Mar. 2021, 

www.thesun.co.uk/news/14517040/lil-nas-xs-satan-shoes-partner-nike-restraining-order/

.

Pietsch, Bryan. "Nike Sues Over Unauthorized 'Satan Shoes'."

The New York Times

, The New 

York Times, 28 Mar. 2021, 

www.nytimes.com/2021/03/28/style/nike-satan-shoes-lil-Nas-x.html.