Updates on the Fall Play Festival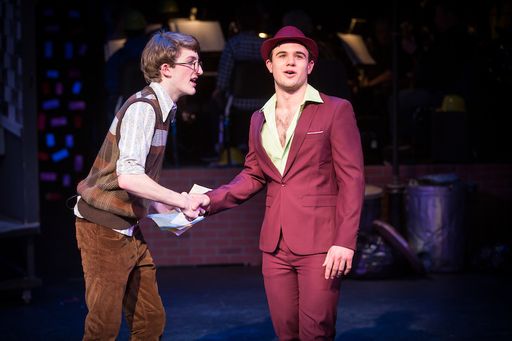 Ava Fong, Online Staff Writer
December 5, 2020
The moment we have all been waiting for: updates on this year's fall festival! Despite the challenges of this pandemic, Chair of the PDS Arts Department Stan Cahill has still managed to organize this year's fall festival, receiving submissions of short plays from upper school student playwrights. The requirements for the submissions are quite interesting: the plays are required to creatively incorporate six-feet social distancing and mask-wearing, and also must be under ten minutes. 
In terms of the selection process of plays that were submitted, Mr. Cahill said, "We have five finalists [from 25 entries]. 25 entries came in and the final 5 were selected by Trent Blanton. These 5 finalists were then sent to a LA/NYC screenwriter/director/producer Elizabeth Cuthrell. She chose a winner…while I know the winner, the writers will not learn the winner until the plays stream." 
"Trent Blanton is an Associate Professor of Theatre in Westminster College of the Arts of Rider University[…] Elizabeth Cuthrell is co-founder of Evenstar Films, an independent film and theater production company."
The five scripts to be produced, according to Mr. Cahill, are: "The Duel by Avery Eiseman, Imagination, Incorporated by Hope Jerris, Eight at the Cost of One by Madeline Chia , Scarred by Yael Tuckman, and The Mirror by Veronica Vogelman." Congratulations to these five finalists! 
Other than these chosen five, there are also two honorable mentions: "To Grow a Rose by Linda Qu, and Guthrie by Jackson Cook." 
These plays will also be directed by this year's student directors, Harrison Fehn, Sophia Glasgold, Tyanna Miller, Yael Tuckman and Veronica Vogelman. Student directors aren't allowed to direct their own plays, but can direct other finalists' plays. 
Hope Jerris, one of the finalists, said, "The stream [of the plays] might be on December 11. I am super excited, though, to see how my play comes to life on stage!! I haven't told my family members what my play is about; it's a surprise." 
Overall, this year's festival showcases the PDS community's creativity with art, writing, and directing in spite of the pandemic. Congratulations to student directors and finalists! We are all looking forward to seeing the plays stream in December.