Tyrone for School Board!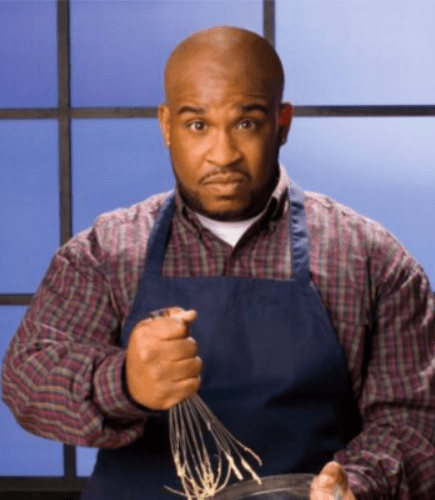 Note: this article is not an endorsement of Tyrone Miller for School Board, but instead a reflection on his impact on the PDS community.
---
From the Princeton Day School kitchen staff, to a candidate for the school board in Ewing Township, Tyrone Miller has been an influential part of our school community. Driven by positivity, passion, and enthusiasm, Tyrone envisions a future where everyone comes together as a team to build a stronger future for the next generation, and generations beyond. 
As Mr. Miller shared, "coming in working in the kitchen I didn't know what to expect. I always put my best foot forward and bring a positive outlook, but working in a school was different. I met so many beautiful people and truly enjoyed being welcomed to the community. I have built some lifelong friendships that I look forward to continuing." Unlocking his experiences one by one from the day he was welcomed to PDS, Mr. Miller built relationships amongst the staff, administrators, and students who have become so involved in one another's daily lives, him to run for a position to represent the students. The feeling was mutual, and Mr. Miller is always described with the same personal values: positive, genuine, and kind-hearted. He is someone who is passionate about others, and as Chef Brian expressed, "he is a genuine person who cares about every person he meets. When Tyrone asks 'how are you doing?', he means it and looks forward to your response. His concern for the community and his compassion for people make him an excellent candidate for school board." As much as Mr. Miller was inspired by the community, he also serves as an inspiration to us all. 
By having discussions with the PDS teachers and administrators and working closely with students, Mr. Miller fostered strong bonds between him and the PDS community. As Chef Brian explained, he was not surprised when he found out Mr. Miller was running for school board. 
Mr. Miller explained, "I know and strongly believe in the power of positivity.  That is my superpower. I can see the silver lining in any situation. The power of positivity also is a unifying force." Positivity is what brings different and unique worlds together, and by building bridges between differences we can create a greater community for all. 
In the same vein, if elected for school board, Mr. Miller plans to "bring people together. Use our strengths and work together to improve outcomes for every child in the district. I will also be very visible, approachable, and intent on hearing the concerns of the people." Mr. Miller noted that "this is what I am all about: serving the people," and, by being part of a diverse group in the Ewing School Board, he hopes that he can make school a better place for the students, teachers, administrators, and families.
Mr. Miller's daughter, junior Tyanna Miller, shared her perspective of the story: "My dad is a very happy man. Now I know it sounds cheesy and generic, but it's the truth. Through every situation I've had in my life, he's always there to help me come out of my dark place. Not only me, but he's helped numerous people in his life without even knowing. He's also a determined person. I've never once seen him give up on something he knew he could do. He pushes my brother and I to carry that same trait with us. Lastly, he's empathetic. Although he never seems to have bad days, he can always understand it when I, or others have a bad day. It seems so small but it really helps to make him such a lovable person." 
And, as stated by senior Liv Phillips, "Tyrone is one of the most genuine and kindhearted people at this school. His double portion sizes make me smile almost as much as his laugh does." 
Through his positivity, passion, and care, Mr. Miller has and will always remain an influential figure in the Princeton Day School community, and for that we are grateful, and for that he will be missed. 
"To my many friends at PDS, I thank you for reciprocating the energy I gave. I appreciate you all for allowing my family to become a part of our community. I miss you, but my baby girl will be there for the next two years. Give her the love and energy you have always given me. 
"To the students: Enjoy the journey you are on. Embrace the Adversity. Do not let anything or anyone put you in a box. Figure out your strengths and maximize them. Learn your weaknesses and strengthen them. Believe in yourself and be nice to everyone. Challenge yourself while also taking care of yourself."
From all of us at Princeton Day, you have given us encouragement, inspiration, and most of all, love. As a family, we wish you the best in the upcoming election!