The Fall Play Isn't Happening, but PDS Theater Isn't Taking a Break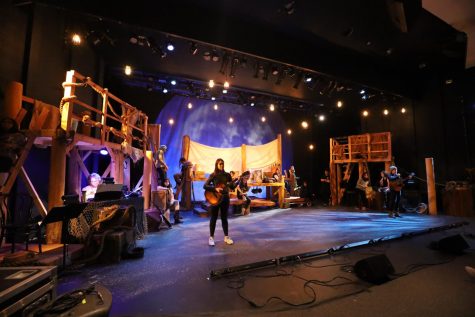 There is no doubt that COVID-19 has impacted our lives tremendously throughout the course of six months. Everyone is trying their best to stay safe, as as a result, some activities were temporarily paused while some of the others were forever changed systematically. The education system took a big hit when schools were no longer in person in March, and now, we must be 6 feet apart in school. Since our return, though, many departments at Princeton Day School have been tirelessly coming up with innovative ideas that can benefit students through the midst of the pandemic. The Performing Arts Department of PDS not only continued its program but was also able to take a whole new perspective of theater. 
Unfortunately, the PDS annual fall play will be canceled this year, due to the restrictions of the pandemic. Theater Department Chair Stan Cahill stated that the social distancing protocols will make play rehearsals extremely difficult, and that "the musical continues to remain a big question mark." However, Mr. Cahill had come up with some great alternatives for students who would still like to get involved in the theater program despite the current challenges. "In the fall, I thought it would be fun to pair up my new directing class with material generated by students, so the hope is that we have students submit short plays for consideration." Mr. Cahill also further explained the system and rewards of this newly created playwright competition: "The top five will be awarded a stage production that will either be recorded or streamed. And a top script will be named by an entertainment industry professional." Such opportunities not only allow students who are interested in theater to stay connected with their teachers and peers, but also provides those students a chance to show great interest in English and expand their horizons as writers. 
Seniors who were greatly involved in the theater department of PDS throughout their years in high school also spoke about their thoughts on the ways the Performing Arts Department is managing to stay connected through this pandemic. Senior Holly Teti noted her connections with the theater community, emphasizing, " I feel the theater and performing arts community at PDS is just as active as ever. My theater friends and I are sharing scripts with each other, supporting each other's individual projects (go stream Ritika's new single!!) and, above all, staying connected where we can. PDS Theater has been a community and a family for me throughout high school, and I'm so happy that it still is." 
As Teti mentioned, senior Rikita Kumar just dropped her single which she has been working on throughout quarantine. Kumar is planning on participating in the playwright competition, saying that "I know that many schools haven't been able to host arts experiences, so I am very excited that we, as students, have the opportunity to write our own scripts and demonstrate our creativity in new and innovative ways." 
The Theater Department is eagerly encouraging students who are interested in theater to participate in the upcoming events and stay connected throughout the pandemic.