How to Help Medical Professionals Access the Materials They Need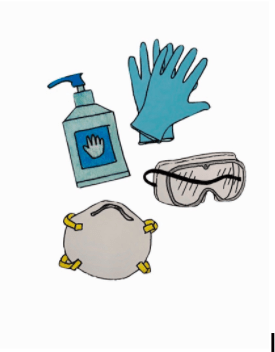 As the coronavirus continues to spread and schools, organizations, and businesses remain shut down, hospitals and healthcare centers are extremely busy with an influx of new patients every day. For PDS students, quarantine and online schooling has left many to find new ways to pass the time and stay entertained. On the other hand, medical professionals find themselves working long hours and worrying every minute about those in need of medical care while trying to protect themselves from the coronavirus. Due to the circumstances, medical workers are struggling to access the medical supplies they require–specifically personal protective equipment. If you find yourself with nothing to do during the quarantine, there are many ways to help medical professionals and local hospitals access personal protective equipment.
The most helpful materials for medical professionals are those approved by the medical community. These include N95 respirator masks, hand sanitizer, disposable water-resistant gloves, protective eyewear, latex-free gloves, and any other materials that local hospitals are accepting. Each hospital has its own standards, and the necessity may change day-to-day, so it is best to check the hospital website before donating. Currently, hospitals are in desperate need of N95 respirator masks, so if you have any extra N95 respirator masks in your home, please consider donating them. You may have some N95 respirator masks if you have ever painted parts of your house, but these can easily be confused with dust masks. The difference is that N95 respirator masks will always have N95 printed on the packaging or directly on each mask, while dust masks do not. If you have personal protective equipment, please only donate if the supplies are unopened, and make sure to disinfect packaging before donating. 
Although materials approved by the medical community are the priority, many hospitals have started to accept handmade masks as a last resort. The acceptance of handmade protective equipment depends on the hospital, and these policies are subject to change in the coming weeks. The easiest way to find out if you can help make and provide masks is to check your local hospital's website. For some hospitals that are accepting handmade masks, there are tutorial videos on the hospitals' websites that show people how to sew handmade masks, and there are even videos for those who have never sewn before. In addition to sewn masks, some hospitals are accepting 3D printed visors and masks. Designs are waiting to be printed on many websites, including https://getusppe.org, so all you need to do is to download the plans from the websites, upload the designs into the printer, and watch the printer create a mask. When sewing or printing masks, it is important to wash your hands or wear gloves while touching the equipment. Also, make sure to disinfect your working space. 
If sewing and 3D printing are not for you, there are other ways to help medical professionals. For instance, some hospitals have started to post lists on their websites of items that medical professionals might need during this time. These include tasks like helping to deliver groceries to families in need or helping a medical professional's family with simple chores. Moreover, you can donate supplies like books and toys to pediatric hospitals, or you can contact hospitals to find out what they need. If you want to donate but don't have the supplies, monetary donations are extremely helpful for hospitals to purchase personal protective equipment (see link to donate money to the Princeton Hospital below). 
In our PDS community, a team of volunteer students and faculty have been working tirelessly to make 3D face masks to donate to the Princeton Hospital's ICU. They have been making 60 masks each week and are now asking for others in the community to help join the cause (see PDS call for action link below). This group of volunteers is currently led by US computer science teacher Theodor Brasoveanu, and he stated that "every single shield counts right now, as hospitals around the state are dealing with an increasing number of critical cases." He then went on to say, "Our anesthesiologist neighbor almost broke into tears and thanked us profusely when we delivered the first reusable shields for the ICU at Princeton Hospital." This project is making a real impact on many people in need of materials and support right now, and Mr. B encouraged others to start acting: "Please know that there are many ways in which YOU, your family or friend group can help, so don't hesitate to get involved if you want to join this community effort."
Take a look at the links below to learn more about how you can make a difference. 
Princeton hospital monetary donations:
https://www.princetonhcs.org/princeton-medical-center-foundation/make-a-gift-now/online-gift-form
Princeton hospital personal protection equipment donations:
https://www.princetonhcs.org/princeton-medical-center-foundation
Websites:
Objective: coordinating the distribution of donating personal protection equipment to medical professionals in need of supplies. 
PDS call for action:
https://docs.google.com/document/d/1y2njXgINIGPbRFJeviqxea-BVGpEi0HVCzXVdUT9Ags/edit