19CovAid- Coronavirus Volunteer Action Platform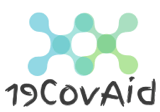 Are you:
A bored student who wants to help out with issues related to COVID-19?

A parent trying to juggle working from home while helping your kids with schoolwork and distance learning?

In contact with a neighbor or organization that is looking for help?
If you answered yes to any of the above, keep reading. COVID-19 has shaken up every aspect of our lives, and the education sector is no exception. Many American universities have canceled the remainder of the spring semester, and many K-12 schools are following suit. These school closures have left millions of younger kids stuck at home, creating mania for already-stressed parents who now must take on the role of homeschooler. In her viral video "If Corona doesn't Kill Us, Distance Learning Will,"  mother of four Sheri Keningsberg Levi exclaims, "Ask me how I'm feeling- falling to pieces! I go from one child to the other—here's science, here's math, forget it! And how am I supposed to know all those things?" Watch the video here.
On the other hand, school closures and self quarantine has created a generation of high school and college students bored out of their minds. Many, if not all, of these older students have retained knowledge from their earlier years in school and would love to give back to their community as volunteer virtual tutors for younger or disadvantaged students.
The only thing missing is a bridge between these two parties. As a whole, the PDS community has been fortunate to have not been hit hard economically. Many of us want to give back and help those in need, and right now is the perfect time for us to take action. 
 www.19CovAid.com is a website I built that connects volunteers with recipients of support through posts and private messaging. As distance learning kicks off, things have gotten harder in many households. Many parents need help balancing their child's learning while working from home. Current high school and college students are perfectly poised to fill this gap as virtual volunteer tutors. If you are a student who is interested in volunteer tutoring, visit 19CovAid, click "I Want to Help," and follow the steps to create an offer of help (ex. virtual tutor, dog walker.)
If you are a parent or individual needing help, visit the site and click "I Need Assistance" and follow the steps to post a request (ex. Algebra tutor for my middle schooler, someone to pick up groceries.) 
On the site, you can easily browse the offers for help and requests for assistance. You can contact someone by clicking on their post, but your email address is not shared with anyone unless you want it to be.  
As of March 25, almost 100 volunteers have signed up to help with distance learning via FaceTime, WhatsApp, Google Hangouts, or similar, smartphone-friendly methods. You can also sign up to be an ambassador and bring 19CovAid to your local community. To become an ambassador click here. 
If you are a student eager to help out through remote tutoring or a parent who is interested in finding a student tutor, or if you know of a neighbor or organization that needs help, sign up and spread the word to friends and neighbors.