The Day School's Winter Musical: The Old Man and the Old Moon
Every year, PDS has a winter musical production that celebrates the art of theater, dance, and music. This year, the winter musical, The Old Man and the Old Moon follows an old man whose job is to fill the moon with light. When his relationship with his wife goes stale and she leaves him, he embarks on a journey around the world to save her. However, while he travels to find her, no one is left to tend to the moon, leaving the moon draining out as the world is plunged into chaos. 
Director of the musical and PDS Director of Performing & Fine Arts/Design Stan Cahill explained that the selection process of the musical was completed with the help of Kayla Stokes, a PDS alumn who was filling in as interim technical director: "[Kayla] told me about a play that had been developed at Carnegie Mellon that was very exciting and popular. I wanted to do a musical that wasn't like the standard thing—sometimes I get a little bored. But this [musical] is a crazy hybrid of music theatre and puppetry." When asked about this year's cast, Stan described the bunch as consisting of a lot of new and young people. For him, it has been exciting to see students grow and come together as they explore an ensemble piece, focusing not on one person/actor, but instead on the whole group. Stan stated that his personal favorite aspect of the musical were the songs and the use of puppets, since they emerge organically from the story and are very fun to work with.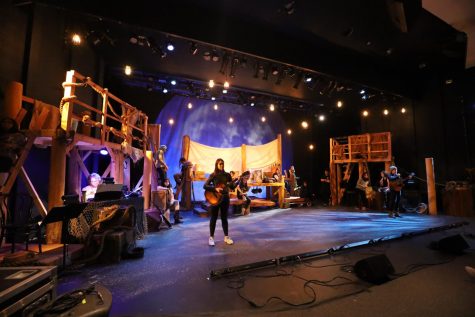 Despite being out on medical leave for the first few rehearsals, Stan noted that both cast and crew enjoyed their "loose and somewhat improvisatory rehearsals" and joked that he knew the performance would either be an amazing show or a glorious mess.
Undoubtedly, both students and parents who watched the musical praised the amazing artistry they witnessed. Although it was only sophomore Mehak Dhaliwal's first time watching a PDS play or musical, she "loved the dancing, singing, and overall production." 
Similarly, junior Disha Bhomwick, who acted in the musical, reflected on her experience, emphasizing, "I think the most unique part of the musical was that there was no aid of the tech crew during the show. All the cast members took care of shifting the scenes by either being part of the set itself or simply moving the set and then coming right off. Everyone was given their moment to shine. Everybody was equal, no matter how much experience they had in theater or on stage. There were no cliques or grade distinctions. Everybody was friends with everyone." 
Bravo to all who took part in the musical!