My Experience Performing in the Winter Choir Concert
Wednesday January 15, the Upper and Middle School choirs performed in front of a wide and attentive audience, ending the semester with beautiful songs and incredible voices. Each year, the choir is made up of a variety of people with a wide range of personalities. At the end of the day, it is amazing to see everyone work collectively to put on an amazing performance. 
This year, the ratio of men and women in the Upper School Choir is 23 to 22 respectively, causing the voice parts to be moderately balanced. The Choir performs twice every school year: once in winter and once in spring. On January 15, Middle school Choir, Upper school Choir, and Madrigals all performed in the annual winter concert. 
Being a part of the Upper School Choir, I stood with the rest of my peers in the dance studio while the Middle School choir performed onstage. Instead of standing around and waiting for our turn, we started rehearsing. The section leaders took control, and we all started jamming out to the music. Finally, when it was time to go onstage, we felt prepared and energized. We entered the theater and took our place on the risers.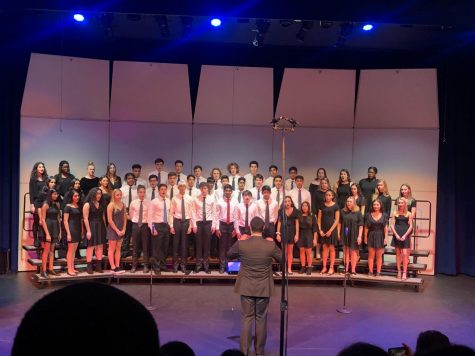 One memorable moment in the show occurred when the women sang "Will the Circle be Unbroken", without a conductor. "This really showcased their musical maturity and ability to connect," Mr. Mariano stated in an interview. Another impressive and enjoyable experience occurred when the men sang "My Girl."
 "It was great to see them genuinely enjoying themselves," Mr. Mariano added. The US choir then performed "Kusimama" along with the middle school choir students. Overall, the performance was impressive and it was nice to see the students for all grade levels come together to perform not just with their voices, but with movement as well. 
Good job US Choir!
---
Listen to Audio Recordings of Three Performed Songs Below