Señora Militano Memorial Photo Gallery
First photo courtesy of obits.nj.com. All other photos courtesy of Zoe Rivera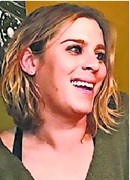 On January 15, former Spanish teacher Senora Militano passed away at the age of thirty. An overwhelming majority of her students loved her and will dearly miss her. From the "coolest Spanish teacher in the middle school" to working in the library, it was always abundantly clear to those around her that she had remarkable passion and energy. Wherever she went, she brought along unforgettable charisma and laughter that permeated the entire space.
On February 28, PDS hosted a half-hour memorial gathering for Sra. Militano, during which students and teachers assembled in remembrance of this beloved teacher to write notes and memories for her family. Though very brief, the gathering was peaceful and full of caring and love. As sophomore Sophia Chaves put it, "It was incredible to see everyone coming together to remember and celebrate Señora Militano and all she's done for us." Instead of asking for flowers, however, Militano's family asked simply for donations to the Trevor Foundation, an organization dedicated to providing support and intervention for LGBTQ+ youth in crisis.
The family's choice of organization connects Militano's story to a larger narrative though. A narrative depicting the suffering of countless transgender people. A narrative depicting intolerance, bullying, and resentment towards LGBTQ+ youth. A narrative depicting a story that some students in PDS still face every single day. It is important that we do not just remember Militano for her strength, courage, and dedication to being true to herself, but also that we as a community continue to fight for the message she embodies: to never stop striving to do better for LGBTQ+ youth.