On the Hike to Fight Cancer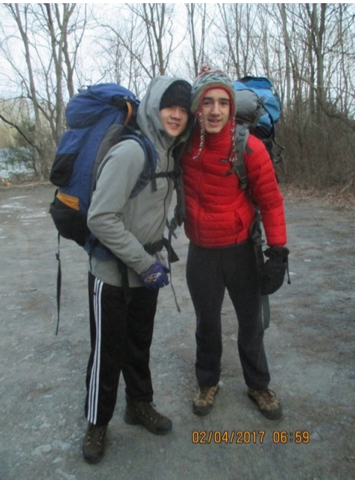 Rising junior George Ma and rising senior Amon DeVane are on an ambitious mission: to hike 500 miles on the Appalachian Trail. Their goal is to raise money to donate to the Cancer Research Institute, a nonprofit organization that helps those who are fighting against cancer. Both Ma and DeVane are eager to create positive change in the lives of others.
The two have also been heavily involved in athletics throughout their high school careers. According to their website, "Hike For Flash and Dash," Ma "has participated in many sports such as soccer, football, and track." However, he adds that "his passion has always been and still is being outside." Following his passion for the outdoors, Ma has backpacked in over seven different states and three countries.
Similarly, DeVane says that "for as long as he could remember, he has always loved backpacking." He too has backpacked in various (and impressive) places, including the Sierra Nevada in California, the Goat Rock Wilderness in Washington, and even the Everest region of Nepal.
Combining their passions for backpacking and the outdoors, Ma and DeVane believe that hiking on the Appalachian Trail is a wonderful and effective way to make a difference. Ma explains that he "has always enjoyed and cherished helping others." This is exemplified by his volunteering at a hospital during last winter break, caring for patients suffering lymphoma and myeloma. Additionally, he regularly works closely with a watershed institute that highlights positivity through restoring a clean environment.
For DeVane, "Backpacking allows him to step away from his often boring and stressful life and just focus on putting one foot in front of the other." He seems to forget about any troubles and puts all his energy into  his passion. These experiences also allow him to slowly become more and more aware of nature's beauty.
After researching various organizations, Ma and DeVane decided to donate to the Cancer Research Institute, which DeVane describes as a "great organization that does a good job of progressing the fight against cancer." For Ma, helping this organization is very personal. Through volunteering at the hospital, he has built strong relationships with many cancer patients. For this reason, all of the money raised will be given directly to this organization.
Ma and DeVane have been on backpacking trips together in the past and have always had a great time. If you would like to sponsor their hike, please donate at the following link: https://www.hikefor.com/Flash_And_Dash/AT/2018. They are excited to begin their journey on the Appalachian Trail from August to September of 2018. Good luck to them!