The 2017 Visual and Design Arts Faculty Exhibit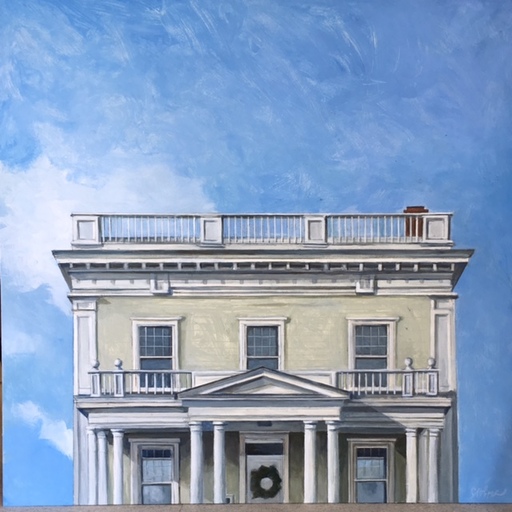 From October 16 to November 9, a diverse collection of original work created by Princeton Day School's own visual and design arts faculty members was presented in the PDS Anne Reid '72 Art Gallery. Featuring works of a range of media with styles from traditional to contemporary, this exhibit included pieces by returning teachers David Burkett, Jerry Hirniak, Chris Maher, Susan Reichlin, Karen Stolper, and Jennifer Gallagher, as well as two new members of the community, Thatcher Cook and Eric Rempe.
As PDS gallery director Jody Erdman described, the exhibit was the ideal way for "as many students as possible to see the depth of talent within our faculty." This sentiment was made clear in the sophisticated and unique work each teacher chose to display. For example, Upper School photography teacher Thatcher Cook selected photographs for the exhibit that would not only educate the general public but would also speak to students at PDS specifically. Mr. Cook expressed the intent to educate, saying that he goes into most exhibits with the goal to be educational as well as impactful. Mr. Cook achieves this end by drawing much of his inspiration from literature while also keeping his audience in mind.
Also participating in his first exhibit at PDS, ceramics teacher Eric Rempe spoke about a different goal: allowing room for interpretation. Many of Mr. Rempe's works are inspired by the natural world, but the interpretation of his work is almost always different based on each viewer's own experiences — dancers see ballerinas, children see kites, gardeners see seedpods. Mr. Rempe noted, "It is not important that someone saw what [he] sees; it is important that someone saw something." Others have described Rempe as a "master ceramist," citing his use of different glosses as a key element in making his ceramics so impressive.
In addition to the works of these new faculty members, the exhibit included pieces from returning members representing all three divisions of PDS — Lower, Middle, and Upper School. For Upper School visual arts teacher Jerry Hirniak, his work demonstrates a desire to "explore rather than capture." Similar to Mr. Rempe's intentions, this comes from Mr. Hirniak's views on the importance of interpretation. With his more contemporary style of art comes room for personal features, but Mr. Hirniak focuses on allowing viewers to see what they want to see. The pieces he chose to showcase in the exhibit have clear political references, but Mr. Hirniak does not offer yes-or-no answers in his work: only possibilities. His use of positive, dynamic flow in one piece certainly contradicts the rigidity and repetitiveness of the other, but it still manages to leave the work open to the viewer's personal opinions.
While the Anne Reid '72 Art Gallery hosts many different exhibits every year, the PDS visual and design arts faculty exhibit is only held once every few years, making its occurrence notable. This year, the community was fortunate enough to experience this event, which allowed a more complete glimpse into the thoughts and inspirations of a talented group of educators at PDS.