Spirit Week and the Zoo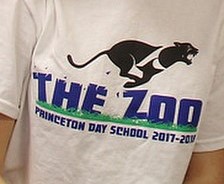 Princeton Day School prepared for its annual Fall Weekend with Spirit Week, which started on October 10 this year. Each day, the school dressed accordingly to the assigned theme of the day. As there was no school on Monday due to Columbus Day, students and teachers kicked off the week on Tuesday with jerseys representing their favorite teams, such as the Sixers, the Patriots, and Eagles. On Wednesday, PDS showed its USA pride with red, white, and blue clothing. Thursday was Zoo Day, so individuals came in dressed like zoo animals and wearing Zoo shirts. Finally, the Upper School ended Spirit Week on Friday with a bang, wearing favorite Princeton Day gear. We members of the Student Life Committee were excited about the great level of participation from students and faculty alike all throughout the week.
At the end of the day on Friday, PDS had a pep rally to get everyone hyped for the weekend. Led by senior Zoo leaders Grace Barbara, Elon Tuckman, and Jared Leveson, the pep rally was a lot of fun, and the fall sports teams received well-deserved recognition from the school. The Zoo is something that many members of the Princeton Day School community take pride in, as it is a great way to build school camaraderie. Zoo members attend many home and away games, cheering on our PDS sports teams to victory. In years past, the Zoo keepers have tended to be players on the boys lacrosse team, but for the first time ever, PDS has a female zookeeper. Grace, with her enthusiastic energy, is sure to encourage new members of the community to come to the Zoo games.
However, it is no secret that the Zoo has lacked participation this year. Even though students are busy with school work and extracurricular activities, they should all try and make their way to a game whenever they can. I remember watching the high school Zoo games when I was in middle school and being so excited to enter the Upper School so I could finally get to be a part of what seemed to be a fun community event. I recall many kids showing up to the games decked out in a theme and cheering their hearts out. Although I still find going to Zoo games fun, I wish more people would come to support the teams. The Zoo keepers may lead the cheering section, but at the end of the day, it is truly up to the student body to also be an active part of the community. I hope that this year the Zoo takes a turn and restores to its peak. I know that if we work together, we can bring back that enthusiasm and renew the energy and spirit of the Zoo.