Creation of innovative STEAM lab in math hallway this summer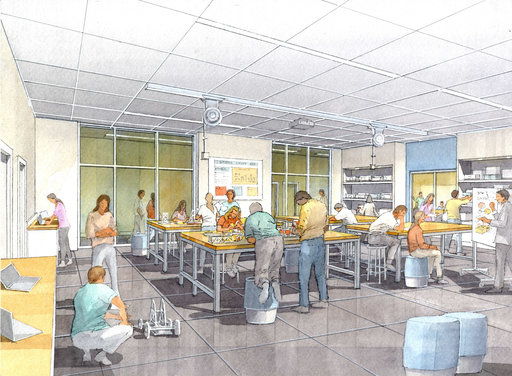 As the school year comes to a close and temperatures begin rising, students at Princeton Day School look forward to the summer for a period of rest and rejuvenation. Whether they will be digging their feet into warm sand and enjoying beach weather or hiking through an arid mountain trail, an escape from the exhaustion of schoolwork and competitiveness of athletics is necessary to refresh the body and mind. However, while everyone is de-stressing, PDS is looking to make some major renovations to the math hallway and computer lab. This upcoming summer, the PDS Buildings and Grounds staff will work with architects at ARC Cambridge to significantly modify the math hallway and computer lab area, changing many qualities students have come to associate with this characteristic space. By September, this section of the school will almost be unrecognizable, as the narrow hallway that sprouts from the center of the main hallway will be removed and the courtyard conference room will be scrapped with it.
"The new space will contain a large storage area for student projects, a faculty office for a to-be-appointed coordinator/supervisor, a large, open classroom designed to be maximally flexible, and a smaller classroom where computer science will be taught and where small conferences can be held," said Dr. Leon Rosenberg. No longer will students be able to stop and fill up their water bottles, nor will they have a quiet place to sit and talk, but the benefits of the remodeling will hopefully outshadow these minor drawbacks. In an interview on the PDS website, Head of Upper School Jason Robinson stated, "A state of the art STEAM curriculum requires a state of the art facility where our new STEAM courses can realize their full transformative potential."  New computers will be added to the Upper School computer lab to give it a more modern feel and further cultivate a passion for STEAM among PDS students. In addition to the physical changes to the school, mandatory STEAM seminars will be held and the computer science courses currently taught will undergo a major overhaul. While this in addition to the schedule change next year is certainly a radical adjustment from this year, exposure to change is healthy for the school. Be sure to check out this new space when we return to school next year!