What's Hot in Princeton? Club Monaco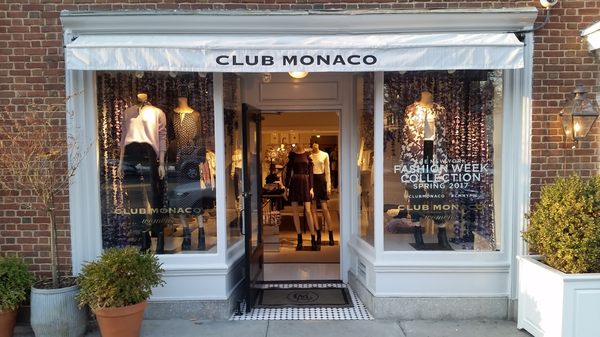 Princeton has always been a hub for everyone who loves to shop. Clothes, books, records, food—Princeton has it all. Opened in the spring of 2016, Club Monaco is another store that can be added to the list of hotspots to visit in town. Located on Nassau Street, the store sells women's luxury clothing. According to one of Club Monaco's sales associates, Olga, there is a "sort of a European/New York edge" to the clothing pieces. The atmosphere and décor of Club Monaco complement that description. The white hardwood floors and walls make the store look classy and modern. The upbeat music instantly lifts one's mood when walking through the doors.
Club Monaco not only has basic pieces that serve as the foundation of different outfits, but it also carries trendy pieces perfect for school. One item that stood out during a recent visit was a peach-colored sweater. It was soft to the touch and had tassels hanging off the hemline. The clothing found at Club Monaco is comfortable and practical, but features its own unique style that is hard to find at other retail stores. Olga also commented on the prices of the clothing, saying, "We sell affordable luxury women's clothes, so we have a variety of price points." Though described as "affordable," the prices range from $60 to as high as $400. The cost of the clothes might not be economical for the typical highschool or college student, but if an item is on sale, it could be a great deal. Whether customers are looking for pants, dress, jackets, or something else, Club Monaco has something for everyone.
The clothing store also offers accessories from third-party retailers, such as a variety of shoes from brands like Yuulia, Loeffler Randall, and Veja Esplar. Purses can also be bought from the store from popular companies such as Feed and Kayu. The staff at Club Monaco are friendly and knowledgeable about what they sell. When walking into the store, a sales associate always approaches with a friendly smile and useful expertise. This attitude is refreshing to see, as staff members at many clothing stores can come across as cold and unapproachable. Along with its clothes, Club Monaco's location is also key to its success. The store is located on Nassau Street, near many other popular brands, such as Urban Outfitters, Lululemon and Talbots. It has big competition with those successful stores, which are staples for many Princetonians. Though their name might not be as recognizable as J. Crew, the clothes sold at Club Monaco are on par with other high-end retailers found in Princeton. The prices that come with the merchandise may be high, but every item at Club Monaco is unique and trendy. If you walk into Club Monaco, you will likely to walk out with a shopping bag in hand.