New York Fashion Week features newest trends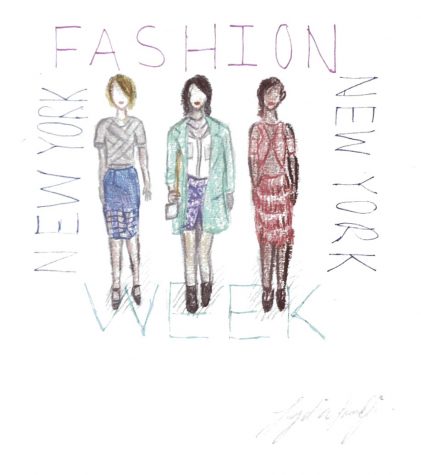 With the lack of snow this winter, it feels like spring is just around the corner. New York Fashion Week Shows took place February 9th through February 16th, and some of the best trends have been appearing on the runway.
My favorite by far is the return of the lines. Proenza Schouler starred a variety of lines. From the bold and prominent to the classy and restrained, most of her dresses shared the common theme of straight and narrow. Other designers that featured this trend include Altuzarra, Marc Jacobs, Opening Ceremony, and Carolina Herrera.
Florals are a trend that return almost every spring, but compared to last year's trend, this time they were seen mostly in cartoonish shapes on a number of flowing gowns. Jason Wu, Delpozo, and 3.1 Philip Lim are all featuring flowers in their designs. Many people fear this trend, not knowing how to pair vividly colored floral prints, so most designers are now featuring them on dresses to simplify this problem.
To get people in the mood for summer, a new spring trend that has just emerged is the sailor trend. The nautical detail is mostly characterized by repetitive stripes typically going in the same direction. However, most designers this year chose to represent their stripes going in different directions for the various parts of the clothing piece: the sleeves have diagonal stripes whereas the torso has horizontal ones. This trend makes the look more retro-style, and is exactly what contemporary fashion is about. Rag and Bone and Tibi both incorporated this look in their runway shows.
"With the Band," as Harper Bazaar calls it, is another new trend for this spring. Although it is usually portrayed as a fancier look, leather, especially black leather, makes its return on the runways. Leather is associated with a night out or a sophisticated outfit, but Opening Ceremony and Rag and Bone have added leather patches on basic tees, sweatshirts, and sweaters for the perfect casual-chic vibe. Leather jackets are a wardrobe must-have and this season Rodarte, Ralph Lauren, and Alexander Wang have taken their designs to a whole new level of funky.
In terms of color, the most abundant hues were sorbet shades. Somewhere between the warm pastels and bright neons, there are the eye-catching colors that appeared on the runway for this spring. From lemony yellows to tangerine and tart raspberry, a variety of colors lightened up the runways for many designers. Tibi, Narciso Rodriguez, and Sies Marjan all chose to feature yellows and oranges for their shows.
Because there is still a bit of time until the end of winter, now is the perfect occasion to go out and find new fashionable pieces of clothing. The beginning of each season means new additions to the closet and an opportunity to incorporate all the newest trends.