PDS Volleyball Season Review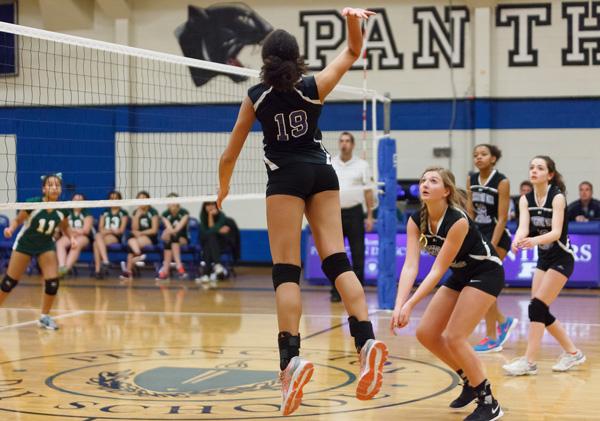 Here at Princeton Day School, volleyball, while usually overshadowed by basketball or hockey, is appreciated for its uniqueness and team ideals. The varsity team is coached by Paul Lano, who returned to the head coaching position last year after taking seven years off. Describing the methods used to lead the girls to success, Lano said, "Some new tactics were born, and some old school methods reborn," and that it is important during practice situations to "simulate the game at its highest levels," so the team can be properly prepared. Volleyball at PDS is open to anyone willing to give it a try, as Lano noted that "the game sells itself." Being around the sport for so long, Lano knows what to do to to have a successful season.
Their final record this season was an even four wins and four losses. The team took home a big win over the Shipley school on senior night, completing a season goal in the process: to beat a team they had lost to previously. The varsity team will be competing in their first postseason finals, or championship match, on Friday, February 3rd. "This is by far the most excitement for this program that I've been involved with," added Lano. The team is lead by senior captain Abby Atkeson along with junior assistant captain Clara Love.
"Although Abby [was already] equipped with the principle strengths required [to be a captain], Abby revealed to me leadership skills far beyond any expectations I could've had for her or anyone," Lano reflected, recognizing the impact of her leadership. "We are all in her debt."
Even though the team will lose Atkeson next season, Love will be an active leader. The team also boasts young talent from girls returning to the team as well as those new to the sport. Sophomore Eleanor Myers quickly adapted to volleyball though it was only her first year on the court. "She quickly become one of the starting setters, sharing the role with another sophomore, Maggie Laughlin, leading this team to success this season," Lano observed. The "setter" in the sport of volleyball is a very strong position as it is recognized as the major playmaker. Coach Lano and the Princeton Day School community commend the team for its success this season and look forward to the next.