Christian Cousins, Spanish Teacher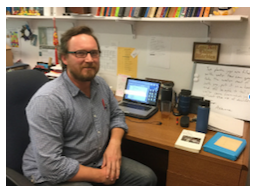 Upper School Spanish teacher Christian Cousins, a Texas native, came to PDS in 2015. Although he has been at PDS for only one year, he has made a lasting impact on many students, myself included. Over the course of this past year he has brightened the halls with his constant smile and impressive beard. Dr. Cousins's strong work ethic and love for his job was evident. He would consistently show up to work way before school. Dr. Cousins was always friendly, and made an effort to interact with students outside of the classroom. At his desk at the front of the Language Department office, students and teachers alike would gather to look at his board of riddles. Those riddles helped students think in new ways and stay interested in learning throughout the day, similar to his teaching style – fun and dynamic.
His favorite memory at PDS has been the time that he spent with his AP Spanish Literature class. He has greatly appreciated having the chance to get to know them over the year. The one piece of advice that he would give to students is to "give yourself a break sometime." Dr. Cousins explained this by saying that not everything you do in the next five minutes will affect the rest of your life. Dr. Cousins proved to be a valuable resource for his AP Lit class, keeping the students calm leading up to one of the more difficult APs. He helped his students learn to love the Spanish language and its literature. His enthusiasm for the subject was evident even during his free time.
When not in class, Dr. Cousins could be seen walking his dog around the PDS campus, a common sight on the sidelines during the fall sports season. In the winter he showed up to cheer on our sports teams again, and in the spring, he contributed even more of his time to PDS by coaching JV baseball. Even though he was especially passionate about baseball and the team he coached, he kept up to date on other PDS teams, always supporting his students.
Although I did not have the chance to have Dr. Cousins as a teacher, I got to know him over the year. It is a testament to his character that he went out of his way to meet students and show an interest in them, even if they were not in his classroom. His students have praised him and are sad to see him go. Next year, he will be moving to Virginia to work at St. Christopher's School, which is an all-boys school, Pre-K through 12th grade. Dr. Cousins worked at St. Christopher's School before writing his dissertation. After a job there came up, he decided to return to Virginia. St. Christopher's is lucky to have Dr. Cousins back. The Spokesman wishes Dr. Cousins well as he goes on to work in Virginia! We will miss him greatly!