The Boys Varsity Lacrosse team's unforgettable season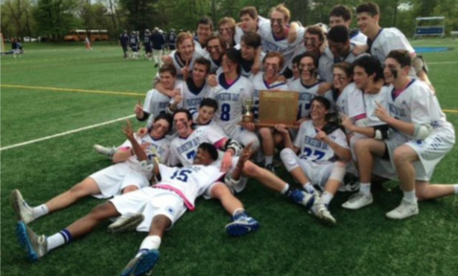 The Boys Varsity Lacrosse team just finished an extremely successful 2016 season, ending the spring with their first Mercer County Tournament and fourth Prep B trophies and a 14-1 record.
PDS entered both of these tournaments confidently and as the top seed. In the Mercer County Tournament, the team beat out West Windsor-Plainsboro South and Hopewell Valley before defeating Robbinsville 17-8 in the championship game. During the Prep B Tournament, PDS challenged Morristown Beard after a first-round bye and ultimately emerged victorious against Montclair Kimberley, winning by one goal (6-5).
The focal point of the season was definitely the Prep B Tournament and Mercer County Tournament, commented Coach Rich D'Andrea. The Prep B's were especially important as they have lost in the "semifinals or finals during the last several seasons," said D'Andrea. D'Andrea believes that their losses in the late stages of the tournament during the past few years definitely helped to fuel already hungry and talented team.
One of the highest points of their stellar season, other than their tournament victories, was their win against Hun, one of the best teams in the state. "We worked hard and it paid off … Not only beating them, but also not letting it get to our heads and becoming arrogant," said sophomore David Phillips.
PDS has an excellent record against Prep A teams this season, with their sole loss coming at the hands of rival Lawrenceville. However, it is not likely that the team will be making the move to Prep A next season. "Traditionally we have played Prep B…it is complicated because we have to make a move that's a consistent move, year in year out," said D'Andrea.
The team currently has seven seniors who will be leaving team next year. Four of these athletes will be continuing lacrosse in college: captain Connor Fletcher (Cornell), captain Jonah Tuckman (Vassar), James Fragale (Rensselear Polytechnic), and Amir Melvin (Goucher). This senior class is special for Coach D'Andrea. "This is the first senior class I've seen full arc … they were in eighth grade during my first year here," he said. He is not overly concerned about the exodus of talent, however, because there is a "strong pipeline" from the Middle School to the Upper School. Additionally, he foresees more players coming from outside, adding talent to the team.
Phillips also believes that despite losing excellent seniors, the team will continue to enjoy success next year. "We have a strong second line that will be able to step up and fill the roles of the seniors," he said.
Without a doubt, the key to the team's success was the tremendous relationship and camaraderie between the players. Coach D'Andrea described it as "playing hard and together." Phillips added, "We have a very close-knit team and we play for each other, not for ourselves. We are all like brothers, and that is what makes us a successful team."