Coachella combines music and style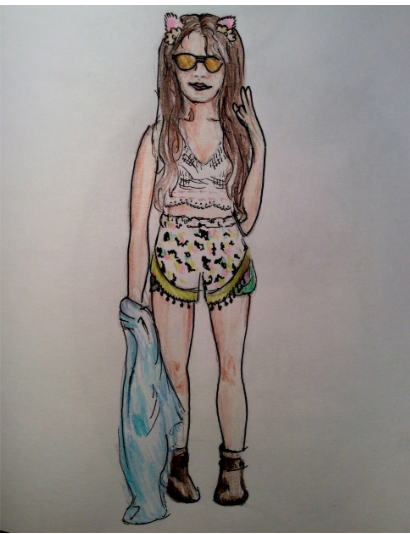 The end of April is typically associated with one big event in California: Coachella. If on the off-chance you find yourself not knowing what Coachella is (which means you should probably spend more time on Instagram), here is a brief description.
Coachella's full name is "The Coachella Valley Music and Arts Festival." The festival combines world-renowned artists and impressive art installations.  Coachella takes  place every year at the Empire Polo Club in Indio, California. The type of music that is usually performed is eclectic in nature, with a wide range of different genres, such as rock, hip-hop, and indie. About 500,000 people were in attendance at this year's event, including major celebrities such as Kate Bosworth, Ariel Winter, Kendall Jenner, Bella Hadid, The Weeknd, Emma Roberts and many more.
Coachella is known for the memorable, stylish, and often eccentric fashion choices of its attendees. Here are some popular Coachella trends, perfect for anyone hoping to go to next year's festival or simply admiring Coachella's striking fashion.
Off-Shoulder: This trend has become an all-time favorite of many fashion icons since it can go in so many directions— one can wear a button down shirt that is off-the-shoulders for a classier look, or a ruffled crop top for more of a Coachella vibe.
Crochet: Alessandra Ambrosio and Kendall Jenner wore crochet at Coachella this year, and they looked gorgeous. Whether you want to go for a classier cream or a brighter shade, crocheted pieces have to be an essential part of your festival outfit.
Bright Hues: Inspired by the location, with its many flowers and shades, many icons  this year attended Coachella wearing bright dresses with vivid patterns and combinations of color. This worked really well and gives a boho-chic look that one could pull off super easily.
Accessorize: Accessories are key to an event like this. Even if you are not one to wear tons of jewelry, this is the place to push yourself over the limits. It is Coachella— everyone wears chokers, bangles, and rings to finalize their outfits. Make sure you stay on the same line with your jewelry, as mixing and matching may be a bit risqué, especially if you are trying out a new outfit for the first time.
Another really good accessory to consider is your bag. If you think about it, you are at a concert where everyone will be on their feet singing and dancing the entire time— you do not want to wear fancy bags that will make it hard for you to have a good time or that impede you from raising your hands when you want to. A roomy crossbody is the perfect idea— if you have one that is vintage, even better.
This year's Coachella was one of the best so far, with an especially impressive final weekend when Ellie Goulding gave tribute to Prince after hearing the heart-breaking news of his death. Here is hoping that next year's festival will be even better and will bring about even more fashion ideas!