Award-winning author visits PDS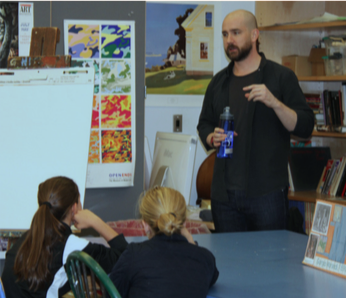 How many students get to meet and learn from famous artists and writers? For 20 years, PDS has been home to a unique program that brings authors, illustrators, and poets to PDS each year. This program, Imagine the Possibilities, was made possible by the John D. Wallace, Jr. '78 Memorial Guest Artist Series Fund, and has now expanded far beyond its original plan. Now, Imagine the Possibilities brings multiple visitors to the school each year. This year, Imagine the Possibilities brought author and illustrator Peter Brown, among others, to PDS.
Mr. Brown is an author and illustrator of children's books. He has written five New York Times bestsellers and has received numerous accolades for his writing and artwork, including two E. B. White Read-Aloud Awards for his books, The Curious Garden and Children Make Terrible Pets, and a Caldecott Honor for his illustrations in Aaron Reynolds' Creepy Carrots. Additionally, his book, Mr. Tiger Goes Wild, is a personal favorite of Interim Head of Lower School Alesia Klein. Mr. Brown was invited to PDS by Imagine the Possibilities Program Coordinator Bev Gallagher. "I selected him because of his body of work," said Mrs. Gallagher, continuing, "he is an author and illustrator and had won the Caldecott Honor as well."
Mr. Brown visited PDS on April 14-15, and spoke to two Middle School art classes, Upper School Intro to Fine Arts classes, and the Lower School. "I knew that all three divisions would enjoy his presentations immensely," said Mrs. Gallagher. Mr. Brown spoke to the Intro to Fine Arts class about his life as an author and illustrator. He discussed his artistic process, which begins with ink, watercolor, or gouache paintings, and then involves scanning the images to a computer and adjusting them to fit the scene being created.
Mr. Brown also talked about how he became an author and illustrator. He considered becoming an animator for movies or television but found that he much preferred illustrating. In animation, an entire team of artists has to create similar-looking images in order to create motion. Furthermore, the artists have to follow a plot created by the writers. Mr. Brown wanted to make his own stories for kids and also wanted to incorporate his style of artwork into his creations.
He developed his personal artistic style while at the ArtCenter College of Design. Mr. Brown was one of the youngest students there, as many of his classmates had switched to art later in life. They each had a personal style, while, at the time, Mr. Brown did not. After this experience, Mr. Brown was meticulous in developing his own brand, which he has incorporated into his artwork since.
The students definitely appreciated Mr. Brown's time and were grateful that they were able to learn from him. "He was inspiring to me because he draws and writes picture books for a living. And he loves what he does, and he can be successful doing what he really enjoys," said freshman Lydia Pamudji, a member of Mr. Hirniak's Intro to Fine Arts class.