Gallery features alumni artwork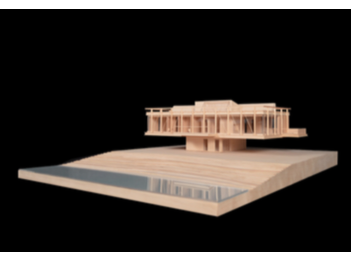 From April 18 to May 14, 2016, the PDS art gallery hosted the 50th Anniversary Alumni Art Exhibition featuring all types of artwork, such as paintings, photographs, model houses, videos, and even costumes, by 37 of the school's graduates. Anne Reid '72 Art Gallery Director Jody Erdman explained that she did not want to "curate" or filter out any of the art pieces, so she put a notice in the PDS Journal that said, "the first 37 PDS alumni who would like to be in the [art] show are in." Although many artists had work on display in the very successful exhibition, the featured artists were Bob Hillier PCD '52, Louise Ingalls Sturges '97, and John Maher '06.
Hillier, who attended Princeton Country Day School, established the architecture firm J. Robert Hillier, which is now known as The Hillier Group or Studio Hillier, back in 1966. The firm, which  is now located on Nassau Street in Princeton, has won multiple awards, such as the State of New Jersey's Award in Excellence for Business and Industry (around 1985), New Jersey's Entrepreneur of the Year by Inc. Magazine (1989), the Leonardo da Vinci Award (2002), AIA's Michael Graves' Lifetime Achievement Medal (2007), and the NJIT President's Medal for Lifetime Achievement (2009). Today, Studio Hillier is the third largest architectural firm in the nation, and works worldwide. In addition to running the firm, Hillier also teaches at Princeton University. Hillier's display – in the center of the gallery – was a model of a house.
Louise Ingalls Sturges is a PDS graduate who currently works in the film and movie industry. Sturges had a painting and a movie trailer on display. The trailer is of Wolfpack, the newly produced movie by Sturges. Wolfpack is a 90-minute film about seven children who are hidden away from the world. One day, when they are in their teens, the children are let out of their secluded environment and have a life-changing experience. Wolfpack won the U.S. Grand Jury Prize for documentary at the Sundance Film Festival this year.
John Maher is an architect and an associate of the MASS Design Group. The MASS group has won awards such as the Curry Stone Design Prize and the Aga Khan Award for Architecture and has been a finalist for the TED Prize and a semi-finalist for the Buckminster Fuller Challenge. Maher himself has been awarded two Public Service Center Fellowships from MIT for water, sanitation, and hygiene projects in Ghana. Currently, Maher is working on designing the Munini District Hospital in Rwanda and the Art of Healthcare Hospital in Tanzania. The exhibit also featured a bench made by Maher. Next September, the gallery will be hosting a complete exhibition of Maher's work.
On May 13, the gallery celebrated the incredible work of the alumni with a special reception, allowing members of the PDS community to meet many of the artists and enjoy their creations.