Artist of the Month: Owen Felsher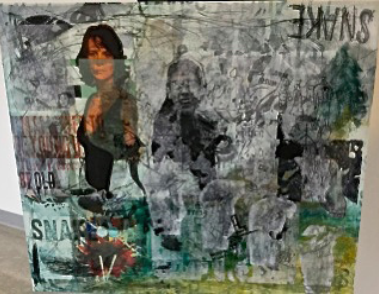 Starting from an original interest in architecture, senior Owen Felsher has used his extensive experience in several art forms to fuel his passion for interior design.
"I came to PDS because of my interest in architecture," said Felsher, and PDS has allowed him to explore his enthusiasm and discover his excitement for another aesthetic.
Felsher's interest in art stems from spending time visiting galleries and museums with his family, especially his grandmother.
"My grandmother is a painter, and I've always really liked looking at her work. She also loves going to museums and galleries, so when I was very young, she would take me with her," said Felsher.
During his time at PDS Felsher has experimented with three different artistic forms: photography, architecture and fine art.
"I didn't really know what I liked. I wanted to experience as much as I could before I started doing one [art form] really seriously," he said.
Right now, Felsher's  favorite medium is fine art because that is what he spends most of his time doing, though he has experienced all of them differently.  
"Fine art is more experimental than others. Drawing is super conceptual. I don't necessarily start with a clear idea of what I need to end up with. Photography is kind of in the middle–I have an idea of what I need, but I take a lot of liberties during the process. While on the other hand, architecture is really structured," he said.
In addition to a multitude of studio arts, Felsher took part in this year's winter musical, The Boyfriend. However, this musical was not his first theatrical experience. Two years ago, he appeared on stage in Urinetown. His preferred production was The Boyfriend.
"I was really proud of it at the end. I went into it unsure, but then I made some friends and it was a really great experience. I was really impressed with the people around me."
Because of Felsher's  strong love of interior design, which is a balanced blend of the other studio arts, he plans to attend George Washington University, where he has been accepted to the Interior Architecture and Design program. In college, Felsher said, "A lot of the work is similar to architecture here in that we have to evaluate a client's needs, the functions of a space, what we need to create. We focus more on the interiors so we get given a raw space and need to create an office space or design the interior of a restaurant that kind of goes on to interior decorators which aren't licensed. They might place the furniture or paint a wall, and the step up from that is what I'm interested in. It's more involved. It's not about just creating a layout."
Get to Know Owen:
Favorite type of pasta: Gnocchi
Favorite artist: Aiden Kringen
Favorite classes: English and Fine Art
Favorite Italian restaurant: Deanna's in Lambertville