Spring fashion: Off the shoulder and in style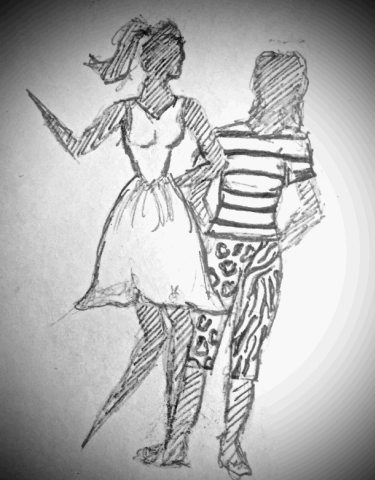 Winter's cold days have disappeared, and spring's warm sun is finally out. In the fashion world, this means that it is finally time to pull out your nicest dresses, shorts, skirts, and blouses. We sometimes get a bit overly excited when picking out our favorite spring outfits since everything is so flowy and light, and we often think everything goes well together. However, this is not always the case, and it is important to mix and match warm weather clothing properly. Here are a few trends that both students and models will be sporting this season:
Cold Shoulders: Off the shoulder necklines have been around for quite a while now, but this season, designers have been going crazy over this trend. Many have created cutouts meant to drag the attention to only the shoulder, and some have even produced shoulder accessories.
All White Everything: The definition of white is different for every designer. Whether it has a touch of ivory, blue, or even taupe, designers interpret their version of "white" in different ways. Roberto Cavalli took his version of all white and made it dramatic by using embroidered sheer panels and bow neckties that gave it a glamorous touch. Christian Dior made his designs very enthralling and revolutionary as always. Alberta Ferretti chose to stick with a more traditional edge, giving her designs an almost bridal vibe.
Wild Jungle Prints: When it comes to going wild with prints, most people are hesitant to take the risk. Do not be scared: jungle prints are fun to play around with, and when you know exactly how to pull it off, picking out such outfits is easy. The runway inspiration for this trend came from Fendi, Valentino, and Mary Katrantzou, who each brought out amazing creations featuring such patterns at their shows.
Here are some quick tips for when you decide to go for prints:
    

Go for designs that seek out your silhouette and that tighten the waist.

    

Add a belt!

    

Mixing patterns, despite what many think, LOOKS REALLY GOOD! (Make sure to stick to a similar scale and have one consistent color in both patterns.)
Stripes: Even though stripes do not sound like as much of a challenge as wild prints, they tend to be harder to pair together, especially when mixing and matching. The cliché way to wear stripes is the typical sailor shirt: a bateau neckline shirt with navy blue and white stripes. However, this is not the type of stripe pattern that designers are trying to emphasize. The goal has been to produce clothes that use stripes going in different directions on different parts of the garment (i.e. horizontal on sleeves, vertical on torso) and bold colors that go well together. If that is not enough, try stripes on stripes. Mix different bright colors, but choose different textures. Balance the volume—thick stripes on the top, thin stripes on the bottom. Play with proportion.
Do not be afraid to try new styles and trends this season. Remember, fashion should be fun!