Athlete of the Month: Connor Fletcher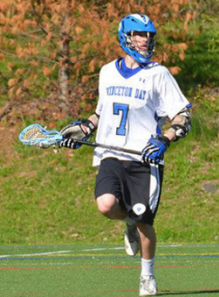 Princeton Day School has been privileged to have a student-athlete role model like Connor Fletcher. He has provided energy, success, and leadership over the past four years during every athletic season. As a key player on the soccer and lacrosse fields, as well as on the ice in the winter, Fletcher has made an impact on every varsity program. Because of changes to the athletic requirement, there are not many three-sport athletes in the school. Fletcher has played 12 seasons in his career, as well as managing his rigorous academics at PDS.
"I have had to balance the athletics and academics my whole life. The teachers and administration make it very easy," says Fletcher. He also finds enjoyment through his balanced schedule. "My favorite part about being a student athlete at PDS is being able to represent PDS outside of the classroom."
Fletcher contributed six goals this past season for the Varsity soccer team. His season was highlighted by his goal early in the second half of the Prep B semi-final vs. Newark Academy, as well as in a 4-0 win over Abington Friends in the regular season.
In early December, Fletcher, as the only four-year varsity player and senior captain, led the hockey team to a 4-0 sweep. During the 2015-16 season, he scored 15 of his 32 career goals. What is his favorite PDS athletic memory? "Beating Lawrenceville this year after losing to them last year. It was awesome to see how much the team had improved over that year, and to have that hard work and determination show in the victory this year." He contributed an assist in the 6-3 victory this past January.
Lacrosse is Fletcher's main sport; he will continue to play in college at Cornell University. He is going into his final spring season as a Panther with 115 career points. In his sophomore season, Fletcher contributed a goal and two assists to a 10-8 win over Rutgers Prep for the Prep B title. The 2016 season looks bright with a lot of talent and leadership by experienced captains. "I look for teammates that are willing to put the team before themselves and work as hard as they can every time they play." Fletcher believes that a strong teammate has character, determination and is unselfish. "Team chemistry is the most important thing to me. The best teams that I've played on are teams where the players put their teammates before themselves."
Team chemistry had been present during Fletcher's senior fall and winter seasons. The soccer team finished with a winning record of 11-7, and the hockey team with a final tally of 15-7-2. Hopefully, this success will transfer onto the lacrosse field this spring.
PDS is grateful to Fletcher for all that he has provided to the community in the classroom and on athletic teams. His leadership will hopefully inspire many underclassmen to be successful on their future Panther teams. The Spokesman congratulates Connor Fletcher on his successful PDS career, and wishes him the best of luck at Cornell.