Junior receives HALO award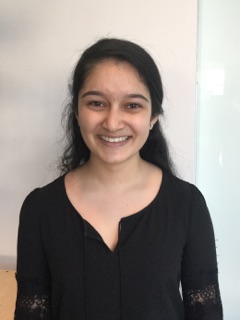 This past year, junior Ruchita Zaparde was chosen as a 2015 Nickelodeon HALO Honoree. This award, which stands for Help And Lead Others, honors only four teens every year who are chosen from across the country. Zaparde was congratulated for her work with her non-profit organization, Sew A Future, which she founded when she was in eighth grade and provides sewing machines to widows with young children in rural India.
"The whole thing was a total roller coaster," said Zaparde. After she was told over the phone that she had been recognized, she was invited to Orlando to film the show, and while she was there she also visited Universal Studios and had a great time with Nick Cannon, the host of the show, and four other honorees. To her amazement it turned out that she had actually met other honorees on separate occasions before, like during a 2014/2015 global teen leader summit in New York.
"It was really good to meet them again," Zaparde said. "I got to learn more about their programs, and hear what they have been doing recently."
Though it was a total surprise for her to win the prize, there is no disputing the hard work Zaparde has put into the organization. She got the inspiration for her organization when she visited India in eighth grade. On that trip, she met a widow who was too poor to provide her two young daughters with a basic education or even supplies for living. After hearing the widow's story, Zaparde felt the urge to do something. She brainstormed the idea of getting the woman a sewing machine. Buying a sewing machine that did not require electricity and was easy to learn to operate, would be a way to help the widow's family become self-supporting. She then organized a hot chocolate sale at PDS to raise money. On her next trip to India she bought a sewing machine and gave it to the widow. With one sewing machine, the widow was able to generate a steady source of income, enabling her to send her daughters to school and live a life with adequate supplies.
After her first success, Zaparde decided to expand her charity as a program to help more poor widows in rural India become sufficient. Since then, her journey with Sew a Future has been unstoppable. She has made many non-profit sales around the New Jersey area, contacted other schools interested in a similar program, and had some volunteers in India help provide information on widows in need and distribute the sewing machines. So far, her organization has helped 312 widows with young children become self-suffcient, and has involved 57 schools in 30 states (over 1,400 students) in the cause.
Zaparde's program not only helps the widows in India, but also gets more kids from the United States to participate in the process of donating and volunteering. The fact that one sewing machine can change the entire life of a person is incredible, so Zaparde thinks that we all should do something to make a change.
"People should just go out there and do it," she said. "One story, one small deal we do might truly change the world."