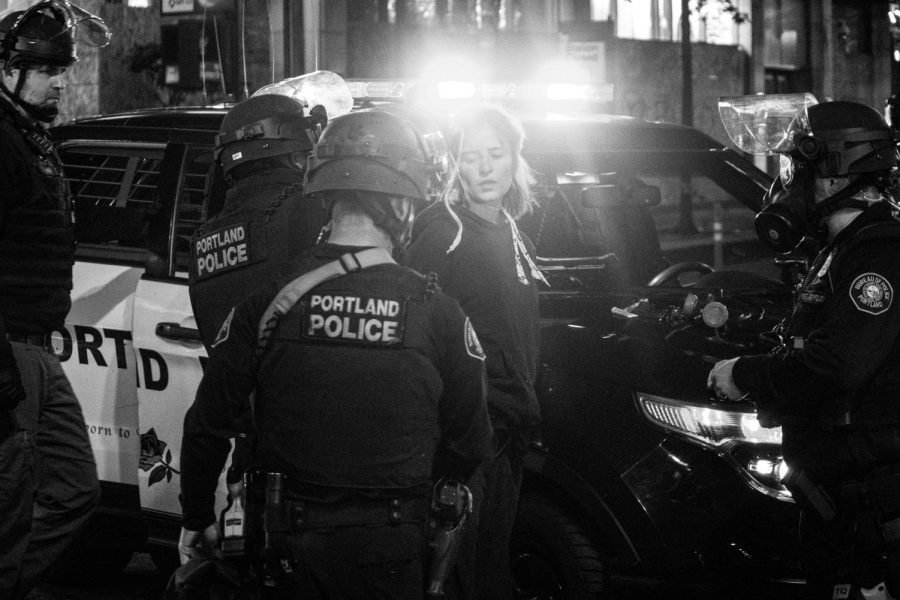 Exploring Potential Reforms
Despite videos, witnesses, and forensic evidence, the police rarely face repercussions because of one specific legal protection for law officers: qualified immunity. Even when police officers violate the civil rights of those they swore to serve, qualified immunity prevents them from being sued by the victim or the victim's family. According to a 1982 Supreme Court ruling, police officers are entitled to qualified immunity if their actions do not violate "clearly established" rights. In other words, if a court has not already ruled that the same conduct in a previous case was unlawful, then the cop is protected from a wrongful-death lawsuit. But, when no precedent has ever been established, a court cannot side with the victim in a lawsuit, ensuring that the precedent will never be set and that cops will always be immune to the law.
Over the past 15 years, courts have granted immunity to police officers in excessive-force cases at increasingly high rates, and of the winning lawsuits in 2014, officers were only responsible for 0.02 percent of the total dollars paid. Instead, taxpayers paid for 99.98 percent of the amount awarded to the victim. Civilians are paying for the crimes of cops. 
Reforming qualified immunity would incentivize lawmakers to end abuses of power so that the citizenry does not have to continuously pay for the actions of harmful police officers. And, if lawmakers instead decide that police officers must pay the damages themselves, then cops might be disincentivized from abusing their power in the first place. 
This reform, however, is not enough to address all systemic problems; implicit bias also contributes to police brutality. Implicit bias is the subconscious attribution of certain traits to a particular social group, and when wielded unknowingly, implicit bias can be deadly. No matter how well-meaning a person is, implicit bias exists in all of us, including in the police. A study published in 2014 by the American Psychological Association found that black boys over 10 years old were viewed as older, less innocent, and were more likely to be "perceived as guilty and face police violence if accused of a crime."
For state and local police, 60 hours of basic training is spent on firearm training and 51 hours are spent on self-defense training, but just eight hours are spent on community policing strategies and another eight are spent on mediation and conflict management skills. This lack of training speaks to how underprepared police officers are to deal with situations ranging from mental health conflicts to interactions with people of color. 
Though legislators have come forward and proposed reforms to amend police departments—Rep. Donald Payne Jr. of the 10th District of New Jersey proposed a bill that would ban chokeholds and institute diversity training as well as an independent prosecutor for police brutality—there is evidence suggesting that mild reforms are not effective. For example, the Minneapolis Police Department has had diversity training, mental health training, de-escalation training, mindfulness training, and implicit bias training since 2015, and yet the Minneapolis Police is currently under extreme criticism, not just for the murder of George Floyd, but also for its treatment of protesters. The Louisville Police (who shot Breonna Taylor and David McAtee) claim that their 1,000 hours of training include learning about "police‐community relations,  community policing, biased law enforcement practices, implicit bias, de‐escalation and understanding mental illness." And yet, both Taylor and McAtee died at the hands of officers.
Instead of the many reforms departments have already made, which clearly are not always effective, some activists are proposing local and state governments defund the police altogether. This essentially means that police budgets and infrastructure should be significantly reduced and reallocated to other services in need. Though the word "defund" typically refers to completely eliminating, not all activists believe elimination (as opposed to reduced funding) is the solution. 
Such defunding could mean removing guns from officers, as has been done in Britain. In 2016 alone, British police were able to de-escalate 3,300 potentially violent situations without the use of firearms. Conversely, in 2015 American police killed over 100 unarmed black people. Clearly, if officers were more reluctant to discharge their weapons and instead used other means of negotiation, police brutality would decrease, but citizens would remain safe.
Defunding could also mean putting an end to "proactive policing" or the targeting of smaller crimes. When officers in NYC reduced their policing of low-level crime, studies showed a fall in complaints of major crime, so it is very likely that ending proactive policing (which uses time, money and resources that could be reallocated) would, in fact, contribute to increased safety as well. 
Many additionally argue that defunding the police would also actually decrease crime rates. Maybe, by improving medical care, the two million people with mental illness that are put in jail each year could get the help they need before their arrest. Maybe, by improving public education, people like Kelley Williams-Bolar (sentenced to five years in prison) wouldn't need to lie about their address to send their children to decent schools. Maybe, by providing more meals to those who need it, specifically to the 37 million Americans facing food insecurity, those who steal or sell drugs simply to stay alive would no longer have to do so. 
These, again, are all initiatives that black activists on the frontlines have thought of and studied. Co-founder of the Black Lives Matter Movement, Patrisse Cullors has already emphasized that defunding has the potential to achieve "real accountability and justice." Further, Sociologist and Associate Professor in the Department of African American Studies at Princeton University Dr. Ruha Benjamin stated at the George Floyd Protest in Princeton on Tuesday, June  2: "We are not going to diversify or train ourselves out of this crisis. Rather, we must take the money that we would normally invest in police and reinvest it in all the other institutions that we actually need to sustain us."