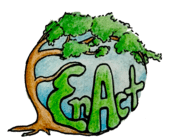 EnAct Hosts New School-Wide Challenge
Starting this Monday, EnAct will be hosting a game for upper school students! The game: complete as many environmental challenges as possible in 7 days. The prize: a Bent Spoon gift card. Interested? Here's what you need to know:
The game starts on Monday, May 4, and ends on Monday, May 11, and is open to all US students and faculty. 

You must compete in teams of 4, and come up with a team name when you enter. The members of the top 2 teams will each win a bent spoon gift card. 

The goal is to complete as many challenges as possible. Each challenge completed is one point for your team. Only the top 2 teams will win, so the more points the better! 

Here are the challenges:
To complete each challenge, take a picture and email it to an EnAct Co-Head (Hope, Holly, or Abby) or post on Instagram and tag EnAct (@PDSEnAct). You can DM us on Instagram too. And if you watch a film or read an article, send us your thoughts!

You can complete each challenge multiple times over the course of the week, but each team-member can only earn 1 point per challenge per day.
Questions? Email the EnAct Co-Heads: Holly Teti, Hope Jerris, or Abby Weinstein, or DM us on Instagram. Good Luck!