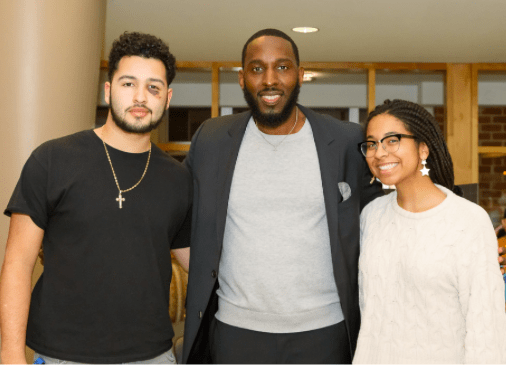 Celebrating Black History Month at PDS
February 25, 2020
February 24th marked the annual PDS Black History Month Celebration. After opening remarks from Chair of Community and Multicultural Development Team Anthony McKinley, the audience heard from a wide range of PDS student speakers. Through his position in the CMDT, McKinley noted that he is "fortunate to be able to collaborate with such dedicated and talented individuals." At the start of the event, 8th grade students Mikayla Blakes, Kingsley Hughes, and Lea-Jade Richards presented a video highlighting a series of interviews with members of the PDS community. The three had asked, "what would you march for or against?" and received a variety of responses, ranging from climate change to gender equality to racism. 
After the 8th grade presentation, members of the Upper School shared original poems, essays, and personal narratives. To start off, senior Ahzaria Silas presented her original poem, " Where the Blackness Runs." Silas's poem expressed the many societal issues black-Americans face today, such as racism and discrimination. Following this, senior Adayliah Ley shared her personal narrative, "Aisle Five." This piece was a short story about Ley going to the grocery store and being approached by a woman who asked if Ley's mother was her nanny. Ley explained that her mother and she look completely different, and shared her struggles of being mixed race.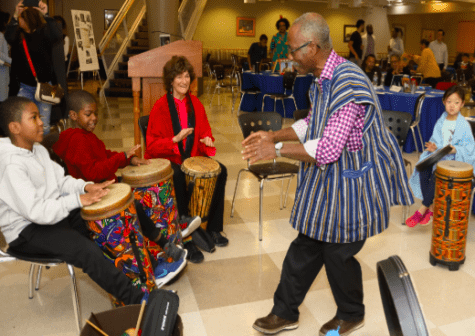 Seniors Fechi Inyama and Aidan Njanja Fassu shared "Dear White America" and an Interlude from "Mortal Man" respectively. Sophomore Andre Williams recited his original poem, "God Bless America." All three of these pieces underscored the notions of racial inequity and injustice. 
After the student-led portion of the event, Upper School English teacher Caroline Lee shared her original essay entitled "Why Black History Matters to an Asian-American Woman." In her piece, Lee described the strong friendships her family members formed with black-Americans. She also explained that African-Americans and Asian-Americans both face the struggles that come with being a person of color in America.
The event ended with a beautiful drum circle led by Upper School French teacher Edem Afemeku and adorable lower schoolers. McKinley notes that "it's fulfilling to see children, students, and family members of all ages partaking in this African tradition."