Athlete of the Month: Morgan Mills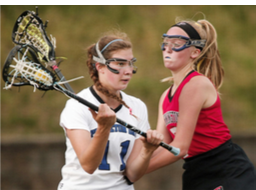 In the midst of both her junior year in high school and her third lacrosse season, the Spokesman's Athlete of the Month, Morgan Mills, is not only pushing academic limits but athletic boundaries as well. Over the course of her Princeton Day School career, Mills has participated in several sports: cross country, basketball, lacrosse, and even one day of soccer preseason. Even though Mills' main sport is lacrosse, she described how her experience with her other teams has aided her in becoming the best athlete that she can be. "Cross country has helped me with endurance so I am able to stay on the field longer. Even though I have not played that much of basketball, it has definitely helped with my foot work and that means that I'm quick to react to the lacrosse ball, as well as to what's happening on the field," she said.
After an impressive freshman year for Mills, who finished with a total of 21 goals and 15 assists, PDS Girls Varsity Lacrosse lost a number of senior players. However, that did not dampen the spirits of the team. In fact, Mills described the advantages of a total transformation of the roster: "I definitely think that we've continued to develop as a program and flourish over the past two years. My freshman year we had a lot of seniors on the roster and losing them was difficult, but instead of that being a detrimental factor to our program, it helped the team because it means that we can bring the underclassmen forward," she said.
Mills has scored over 100 goals in her PDS lacrosse career. In this 2016 season alone, Mills has scored over 30 goals. Evidently a dominating force on the field, Mills helped bring home the Prep B championship trophy in 2015, scoring five goals during the game. Mills attributes much of the success to the diversity, depth, and determination of the team. "I think that there's a lot of diversity and depth to our team. We don't have one star, one flashy player, so if a girl gets face guarded, it doesn't make a huge impact since the whole team isn't getting taken away. There are other kids that step up to compete in the moment. I also think that we're very multifaceted in the sense that we can attack well but if that's not working and we are making a lot of mistakes, then we can transition and take it piece by piece till we get the win," she said.
At the heart of any successful athletic program lies team chemistry. According to Mills, PDS Girls Varsity Lacrosse has an ample amount of it. The friendships forged on the field often transcend the season and even high school. When asked how the team has impacted her PDS experience, Mills responded, "I think it's just been an awesome experience. We're a really close team, more so than any other team I've been on. I know I can walk into school, and they have my back regardless."
Lacrosse is Mill's primary sport; she will continue to play in college at Princeton University after her graduation in 2017. Princeton Day School is very grateful for her contributions both academically as well as athletically to the school. The Spokesman wishes her the best of luck for the remainder of this season and next spring, as well as in her pursuit of Division I lacrosse after graduation.